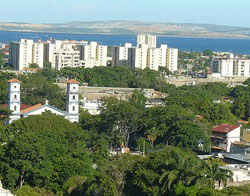 The state of Sucre in northeastern Venezuela  is a valuable agricultural region, though its lands are dry and rugged in the west. It also has a booming seafood industry, particularly in the capital, Cumaná. The city is an industrial centre and a commercial port.

Cumaná is also of great historical importance. It was where the first Spanish settlement in South America was founded. There are some old sites and buildings here, though most of the buildings have been reconstructed several times due to damages from wars and earthquakes.
Two other places of interest are the cultural centre, Ateneo de Cumaná, and the Museo Gran Mariscal de Ayacucho, built in honour of General Antonio Jose de Sucre, the first president of Bolivia.
Sucre has a great local festival called the Carnaval de Carupano, held in the city of Carupano. It is a month-long festival celebrated with colourful and elaborate float parades.
---