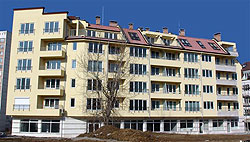 This municipality's name (a prime area) means "Student City". It was built in the 1960s as a residential area for students from different universities; it is every inch a college town. It has bohemian digs, cheap rent, an exuberant, youthful atmosphere, and easy access to the hippest clubs in town.

An almost electric excitement streams through it. In fact Studentski Grad is the party mecca of Sofia, with fashionable bars and cafés bouncing with dynamic young habitués.

Rents are mercifully low (dormitory rooms can sometimes rent for as little as €30 a month). Most buildings are relics from the Communist era converted into dormitories and small apartments, and now somewhat fallen into disrepair.
Recently, widespread renovations have taken place, as the quarter's hip factor has gained Studenski Grad an increasingly positive reputation.
---