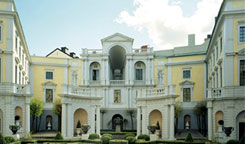 Bordering Lake Mälaren and the Baltic Sea, Stockholm County is a region of fertile lowlands dotted with lakes. This län surrounds the capital city of Stockholm, yet administratively the two are separate. About a fifth of the entire population of Sweden calls the county home. The county includes the massive Stockholm archipelago, consisting of more than 24,000 islands and islets, and island hopping is a favourite year-round pastime here, particularly among the larger islands.

Stockholm County includes the Roslagen region, in the northern part of the archipelago. Roslagen is a great getaway for those looking for a relaxing time in an idyllic setting, with charming wooden houses, museums, cafés, and boutiques. Roslagen residents enjoy a multitude of activities during the summer, including boating, canoeing, hiking, and cycling.
Södertörn, a part of the province of Södermanland, is a peninsula is bordered by Lake Mälaren to the North and the Baltic Sea to the south. It is mostly made up of rift valleys, many carpeted by pine forests. Its highest point, Tornberget, is found in Hanveden, which is part of the Tyresta National Park. Stockholm residents can visit Södertörn by using the Nynäs Railway.
---