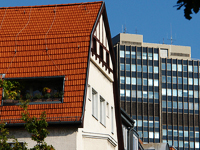 Steglitz-Zehlendorf is a picturesque, green and beautiful district where part of the Grunewald Forest lies. This is very much a luxury residential area, with splendid houses, boasting the highest income per household in Berlin, and a very low unemployment rate. The average age is distinctly higher than the Berlin average. The population consists largely of well-off professionals. Real estate and rental prices here have been consistently high and are likely to remain so as the southern side of Berlin has been growing more and more popular.
Steglitz-Zehlendorf is a favourite holiday destination in summer, with its lakes and waterways as well as woods. Some houses along the water's edge have boats tied up behind them.
There area is home to the Schlossstrase, Berlin's second-largest shopping district. There's also the vast Berlin Botanical Gardens, some museums, and the Library of the Free University, which is known for its unique modern architecture, as well as its extensive collection. Traditional farmhouses are preserved in the Doppel Museum Village.
The western side of the area is more rural, while the eastern side is more urbanised with many residential developments and some commercial establishments. Most neighbourhoods are attractive; many have period buildings.
There is one problematic neighbourhood though in the borough's south, with many foreign immigrants, known as the Thermometer Development. Efforts to improve it have not been very successful.
Steglitz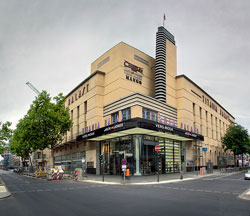 Steglitz is popular with better-off families. The population of this area quadrupled within the first half of the 20th century.

Steglitz witnessed the construction of the first paved Prussian country road in 1792, and profited largely from its location on the famous Reichstrasse 1, which follows a trading route dating back to the Middle Ages.

Part of the Berlin Botanical Garden is here. It is also home to one of Berlin's glitziest commercial areas, Schlossstrase.
Lichterfelde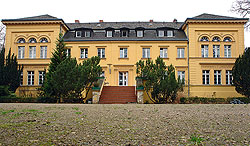 Lichterfelde is one of Berlin's older residential areas, with many 19th- 20th century buildings. It boasts elegant 19th century mansions and villas on spacious lots, plus some interesting ones built in the early 1900s. One notable development is the exclusive Villen Kolonie (Colonial Villas), which dates back to 1860 and features grand homes along cobblestone roads lined with trees. At the other extreme is the Thermometersiedlung or the Thermometer Development, a high-rise 1960s-70s development, with a large foreign immigrant population, and a poor reputation.

The best parts of Lichterfelde have experienced the greatest growth in real estate and rental prices of all former West Berlin districts. There are just a few commercial areas here, on both sides of the Teltowkanal.
Lankwitz
Lankwitz borders the Teltowkanal. The canal waters have been cleaned up recently, and the walkways by the canal are pleasant.
Housing consists mainly of single and multi-family residences. There are also a few 19th century villas.
Zehlendorf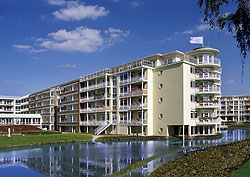 Zehlendorf is a spacious green area that grew from an old village, and it has mostly retained its village character. There are some beautiful properties in this area, including elegant historic mansions and villas.

Many upscale developments are close to the popular Wannsee Lakes, a lovely tranquil area where many homes have river access.

This is a family-friendly area, with many green open spaces and extremely light traffic. It is not too far from Potsdam, the capital of Brandenburg. Zehlendorf's residents have the choice of visiting either Potsdam, or the equally near central Berlin for shopping or night life, while living in peace and quiet.
Dahlem
Dahlem has many upscale, elegant villa developments. The vast Free University of Berlin has its seat here. Few of the university students actually live in the district, though, because of its distance from the city centre, so there are few young people out at night.
Nikolassee
Nikolassee is mostly rural in character. It has plenty of waterways and lakes, including the one that gave the district its name. There is extremely little residential development here, and most of it is in an elegant district by lake Nikolassee.
Wannsee
Wannsee got its name from the big lake at its middle. The beaches by the lake are very popular in summer. Wannsee is easily accessible on the S Bahn. This is a favourite holiday site, but has few residents. It is still largely rural.
---