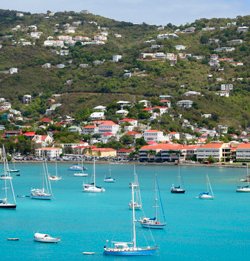 The island of St. Thomas (a prime area) is small and mostly mountainous. Half of its population of 50,000 live in the USVI's capital, Charlotte Amalie, and the rest in the three other residential areas: North Side, East End and West End. Condominiums, villas, guesthouses, resorts, and vacation homes dot the island, from along the beaches to farther inland. St. Thomas is a very popular residential and tourist area.

There is plenty to do on the island. There are guided snorkelling and kayaking tours of the St. Thomas Mangrove Lagoon Wildlife Sanctuary and Marine Preserve. A modern aerial cable, the St. Thomas Skyride to Paradise Point, offers a breathtaking view of the island and the sea. Visitors to the Coral World Ocean Park can get up close and personal with the Caribbean's marine life through shows and exhibits like the Shark and Turtle Encounters. At the beach, you can sunbathe, scuba dive, snorkel, kite board, wind surf, sail, kayak, parasail and fish. Away from the water, you can also play golf, take a tour of the island's historical sites, or do some duty-free shopping.
Sites to visit in St. Thomas:
Bluebeard's Castle: a stone watchtower on Bluebeard's Hill built by the Danes in 1689, as part of the defenses of Fort Christian. Bluebeard's Castle has now been incorporated into Bluebeard's Castle Hotel. A large private home, Frederiksberg, has also been made part of the hotel.
Nisky Moravian Church: a great example of an old establishment from the island's past. The church was built in 1755 by Moravian missionaries who came over to the West Indies to minister to the slave population.
Drake's Seat and Mountain Top: Drake's Seat is the where Sir Francis Drake was said to have spied on enemy Spanish ships. The view can still be enjoyed from a bench on this lookout point. Mountain Top on St. Peter Mountain is the highest point on the islandand has beautiful views of Magens Bay, the British Virgin Islands and Drake's Passage.
Tillett Gardens: an artists' hub on the grounds of an old farm. It is a great place to purchase works by local artists. There are shops selling paintings, enamel jewellery, candles, silkscreen prints and other local handicrafts. Tillett Gardens is also a popular venue for wining and dining, arts and crafts shows and classical music concerts.
Mahogany Run: a golf course with a trio of challenging holes known as the Devil's Triangle. A popular place to stay in the area is the Mahogany Run Condo Hideout.
Flag Hill: a mountain summit on the island sitting above Charlotte Amalie Harbour and the Marriot Hotel.
With over 40 beautiful beaches, it is not hard to understand why St. Thomas is a popular vacation spot. The most popular ones can be found at Coki Point and Cow Pet Bay and on Water Island. Coki Beach on Coki Point is a tourist hotspot. When you see a gaggle of hair braiders, beachside eateries, t-shirt and souvenir vendors, beach waiters, waiting taxis, dive shops, jet ski rentals, snorkel gear rentals, and chair and umbrella rental facilities, you know you've hit a popular spot. It can get pretty crowded on holidays, Sundays or when a number of cruise ships are docked. Coki Beach is right next to another popular attraction, Coral World Marine Park.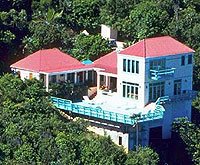 Immigrants from St. Barthélemy, a French Caribbean island, established Frenchtown in the late 1800s. It remains a fishing village to this day. If you'd like to learn more about the French community on the island, visit the French Heritage Museum. Many of the older residents speak Creole.

Water Island is a small subdistrict of St. Thomas with a population of nearly 200 people. The most popular beaches here are Honeymoon Beach and Sprat Bay Beach. The latter is part of the gated Spray Bay Estates, which also includes The Villa at Banana Bay, a small, secluded resort that can be reached via boat or plane. Other residential areas on the tiny island include Flamingo Point, Carolina Point and Providence Point. Providence Point in particular is a lovely area. The only accommodation on this private peninsula is at Waterfront Cottage and Apartments, which has satellite TV, hot tubs and a freshwater pool. A smaller and quieter beach on St. Thomas is Cowpet Bay.
Try to schedule your trip to St. Thomas in April, to catch Carnival. With parades, fireworks, dance competitions, calypso contests and all-day, all-night eating, drinking and dancing, it is the island's biggest party of the year.
Charlotte Amalie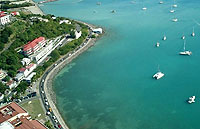 The capital of the US Virgin Islands is Charlotte Amalie. Named after the Danish queen, it is a lovely old port town situated in the centre of St. Thomas. Once the refuge of pirates, Charlotte Amalie's deep-water harbour is now the most popular port of call for cruises in the Caribbean. Visitors disembarking here are welcomed by a beautiful view of the white and pastel homes that dot the verdant, rolling hills.

The town's main street, Dronningens Gade, is a prime area for dining, duty-free shopping and sight-seeing—in fact, since a number of the town's boutiques are housed in old colonial establishments, you can do both at the same time. Other interesting places in Charlotte Amalie are:
Fort Christian: a National Historic Landmark and, at 350 years old, the oldest edifice in the territory. It was named after the Danish king Christian V. The bright red brick stronghold was built to protect the Danish settlement from pirate raids and other European colonizers. The fort was later used as a police station, a court, a jail, Government House, community centre and a church. Today it houses a museum that exhibits historical relics from its past. Make sure to climb up onto the roof to take in the beautiful view of the nearby harbour.
The Grand Hotel: a commercial complex with a number of shops and restaurants. Built in the mid-19th century, it used to be a hotel that occupied a whole city block.
Hotel 1829: a hotel that was built in 1829 and is still in operation today. It is a fine example of what island architecture was like during Danish rule.
Lutheran Church: this place of worship near Fort Christian has a cheerful yellow-gold exterior and an inviting staircase.
99 Steps: a stair path constructed by the Danes in the mid-1700s as a way to get around the steep hills of Charlotte Amalie. The steps are constructed from bricks that once helped balance sailing ships. 99 Steps is actually made up of 103 steps. When you've finished climbing it, you will be rewarded by the awesome view of the harbour.
Northside
Northside is a lush area, almost totally residential. There are a few hotels cozily tucked into the hillsides, but island villas are more common. Though many are not beachfront, they do offer privacy and luxury.
Northside's beaches include Dorothea Bay, Hull Bay, and Mandahl Bay. But the most popular beach on the island is Magens Bay. It is the only one with an entrance fee, which is used to maintain the facilities of this public beach. This one-mile, U-shaped stretch lined has palm trees, clear waters and soft white sand. It was recognized by National Geographic as one of the most beautiful beaches in the world.
Sitting above Magen's Bay are two estates. Peterborg Estate is a neighbourhood of posh villas. Magen's Bay Luxury Estate is surrounded by a government-protected national forest. A wall of palm trees dividing the estate from the forest allows residents to enjoy the luxury of their accommodations in relaxed privacy. The side not wrapped by jungle has a breathtakingly awesome view of the Atlantic Ocean and the British Virgin Islands.
East End
The East End is a mix of residential and commercial establishments. It a bustling area of hotels, beaches, gourmet grocery stories, shops, bars and a marina and ferry dock. It has a popular shopping centre, the Havensight Mall. Locally known as Red Hook, the area is characterized by a plethora of red-tiled roof homes and commercial businesses that sprinkle the coastline overlooking Pillsbury Sound. Not as luxurious as other parts of the island, the East End has a wonderfully intimate atmosphere.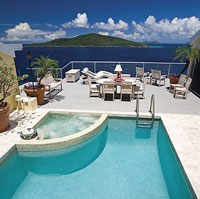 The East End has a number of popular beaches, such as the palm tree-lined Bluebeard's Beach, crystal-sand Sapphire Beach, Secret Harbour Beach and romantic Nazareth Bay. Vessup Bay is also a popular white sand beach, but more for the community living in the area, due to its limited accessibility. Vessup Bay is more of residential area, but still has hotels such as the Elysian, Ritz Carlton and Anchorage Condos.

For water action seekers, visit the Pillsbury Sound, a popular island destination known for its active water sports community with facilities for every water port you can think of, including swimming, snorkeling, scuba diving, wind surfing, deep-sea fishing and kayaking.
The East End encompasses Cabrita Point peninsula. The Cabrita Point Resort offers a breathtaking 360-degree panorama of the island and the ocean, with colourful sails playing in sparking blue waters from the marina and beaches below, as well as St. John and the British Virgin Islands beyond.
---