St. John (a prime area) is the smallest of the USVI's three main islands. The Virgin Islands National Park covers two-thirds of the land.

The national park covers more than 7,000 acres. Nature lovers must stop and spend a day in this beautiful sanctuary—set up tent in the campgrounds or rent an eco-friendly cabin and spend the rest of the day exploring the pride of St. John in all of its natural glory. There are beaches to discover, cultural and educational programs to listen to, hillside hiking trails to clamber up and 18th century plantations like Estate Annaberg to explore. Each activity featuring its own backdrop such as sparkling turquoise waters, salt ponds, emerald cays, lush valleys and rolling hills.
Interesting sites on the island include the Emmaus Moravian Church, which was the site of a slave revolt in 1733 and which is said to be haunted, and a popular local hangout, Skinny Legs Bar and Grill.
In the US Virgin Islands, St. John has the highest property price tags in its luxury residential areas, which include Chocolate Hole, Rendezvous Bay and Fish Bay.
As it is an expensive and high-priced area, only a few luxury homes line the peaceful shores of Chocolate Hole Harbour. The homes have their own access to the sand and coral rubble beach and a lovely view of the open sea and the colourful bobbing sailboats moored in the harbour.
Lush and verdant Fish Bay has become a mix of residential and rental homes. It has a pleasing view of the Caribbean Sea, and as well hiking opportunities through valley streams called "guts".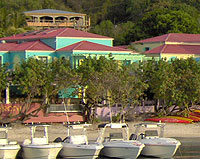 Between Chocolate Hole Harbour and Fish Bay is Rendezvous Bay. While upscale homes have slowly begun to pop up in the area, Rendezvous has retained its delightfully peaceful and relaxed atmosphere. Tourist accommodations include the Rendezvous Bay Hotel.

Other residential areas include Virgin Grand Estate, a beautifully designed neighbourhood that extends across St. John's hillsides, where the villas are bathed in sun all day due to their intentional south-southwest positioning, and St. Peters Bay, a friendly community at the mouth of St. Peter's River. As with all living arrangements on the island, "The Bay" offers the comfort, privacy and luxury that St. John's is known for.
Cruz Bay
St. John's main town is Cruz Bay, which has a busy port. Entry to St. John is largely through the harbour. It is a colourfully quaint and charming town with a carefree mix of dive shops, eateries and bars, boutiques, small businesses and art galleries. The National Park Service's head office is here, as is a library, a post office, a bank and a U.S. Customs and Immigration office. Within walking distance from the centre of town is Cruz Bay Villas and Condos.
Coral Bay
The second largest town on St. John after Cruz Bay is Coral Bay. Once the centre of plantation life and commercial activity in the 18th century, Coral Bay is now quite an easygoing and relaxed community. The area has no traffic lights and only one "yield" sign—not that any more are needed, as a traffic jam here would most likely consist of a few animals lumbering across the road. Most of the people here live either in the homes on the hillside, or in the docked boats.
---