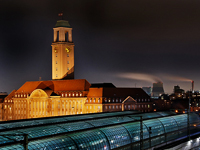 Spandau is an exceptionally tranquil district, popular with families. Most of the borough has maintained its old village character. It has an old town with centuries-old buildings, including Berlin's oldest residential building, the Gothisches Haus. In its northern portion lies Spandau forest. Extensive waterways run throughout the borough.

The rate of job loss in this area has become Berlin's highest in recent years. A recent GSW/Jones Lang LaSalle report showed Spandau at the very bottom of the scale when it comes to rentals.
There's a 1907 Villa Lemm, in Gatow by the Havel, inspired by English country houses, which has landscaping in an Italian garden style. There is also the 14th century Church of St. Nikolai in the old city of Spandau, which has a Prussian baroque pulpit and Renaissance altar.
Spandau Citadel is Berlin's oldest surviving fort, built in 1594 at the confluence of the Havel and Spree rivers to defend Berlin. Nearby is the site of Spandau prison, which housed Rudolf Hess, Hitler's deputy, until his death. It was demolished after his death, to avoid it becoming a neo-Nazi shrine.
Many of Spandau's tourist attractions have a military connection. There is an Air Force Museum at Gatow Airport, which is now in Kladow. There's Europe's only Diving Simulation Tank, in Wilhelmstadt. There's also a memorial to forced-labour camp detainees.
Spandau
Spandau has had military fortifications for over a thousand years. Armament industries have been located here since the 16th century.
Most of the Old City of Spandau's architecture dates back to the early 1900s, but it also has a 14th century church. The old city was poorly maintained until the 1970s, when restoration began, and the old city became a traffic-free zone.
Haselhorst
Haselhorst is a village by the Havel River. There are charming gardens in the north. There's a pleasant 1930's residential development close to the Haselhorster dam.
This district is the location of the Spandau Citadel, a famous well-preserved Renaissance fortress, and the oldest intact structure in Berlin. It is also home to some world-famous industries like BMW Motorcycles, Siemens and Osram.
Siemensstadt
Siemensstadt (pop: 12,000) was first developed as housing for Siemens AG employees. There are extensive canal networks to the north and south, which made it attractive to industries. Before World War 1, Siemens employed over 20,000 workers in plants nearby.
All the Siemans houses were designed in the era's latest architectural style. Some of the original 1900s single family homes survive. Siemens also built along Rohrdamm in the 1920s-30s, and to the west of Rohrdamm in the 1950s.
Staaken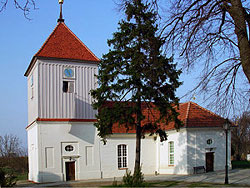 Staaken has a historic village centre, and to its north there are many low-density developments. There are bigger developments in the southeast. One notable settlement is Albrechtshof, which is mainly of single-family homes, and has a rustic atmosphere. Also attractive is the Garden City Staaken, built in 1914, whose houses are now considered historic.

In the 1960s-70s, new housing was built in New Staaken, to the south of the S Bahn line, replacing the original family-run farms. This is a rather compact suburban area; the homes are mainly multi-family houses. In the Hahnberg area, there are some modern apartment buildings built in the 1990s, after re-unification.
Gatow
Green and village-like, Gatow is one of Berlin's least populated communities. A sewage plant used to be located nearby and there is still a bit of contamination near Rieselfelder. There are some bathing areas along the Havel here, like Grose Badewiese (great meadow beach) and Kleine Badewiese (small meadow beach). Grunewald tower overlooks the first, while Old Gatow is near the second.
Housing in this district is mainly single-family houses with gardens. There are also a few multi-family houses.
Kladow
Some buildings in Kladow's old village date back to the early 1800s. Later constructions include a 1950s settlement, Finnenhaussiedlung. Plenty of new buildings have been built in recent years, including a new 1200-home development on an airfield once used by the British, with a recently-completed commercial centre, a new school, day-care centre, and sporting facility. Despite all this, demand for homes remains low, slowing down the completion rate of the project.
Hakenfelde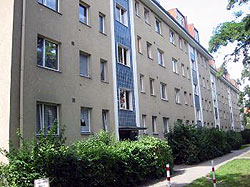 Two-thirds of Hakenfelde, along the Havel waterway, is forest - a favourite place for recreation for Berliners, especially for cycling. Many new developments have been built here since the late 1990s, fronting the Havel, both on the east and west banks. There are over 12,000 apartments. Another development overlooking the river, built in 2000, is near the Havel crossing at Hugo Cassirer Street.


Falkenhagener Feld
Falkenhagener Feld has a huge population, including many Turkish and Russian immigrants. In the mid-1920s some expressionist-style homes were built here along Zeppelin Street. For most part though, it was mainly an agricultural area until the 1960s, when many developments were built. Once urbanised, the area experienced many social problems.
The neighbourhood's image has been improved recently. It now has a recreational centre, Falkenhagener Spektegrunzug, which with retail and commercial establishments. Close to Falkenseer Chaussee are supermarkets. It is right in the flight path of Tegel Airport, and is sure to enjoy even better conditions when the airport is closed in 2011.
Wilhelmstadt
Wilhelmstadt is a vast residential area. There's an excellent residential area called Weinmeisterhohe in the heart of the district, near the Havel. Two former British army barracks have now been converted into commercial centres. Spandau Prison, which housed the major war criminals, was located here until Hess died in 1987 and it was demolished.
In the north, there are congested, traditional tenement-style homes.
---