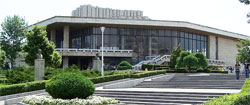 The Southwest Oltenia region is bordered by two natural wonders, the Carpathian Mountain Range in the north and the Danube to the south, with fertile plateaus, rolling hills, forests and pastures in between. It has five ports of entry, with links to national and European roads traversing the entire region.

Industries include agriculture, coal mining and the quarrying of granite and marble. Significant reserves of oil can be found in the Olt County.
The Danube and its tributaries nourish the surrounding landscape, particularly the Danube plain. It is also interesting to note that these rivers' potential for hydroelectric energy has been harnessed by the locals.
The southern Carpathians are covered in broadleaf and conifer forests. The valleys are part of national parks and nature reserves.
Oltenia had been part of the Roman Empire. Archaeological sites such as the ruins of the Apolodor Bridge over the Danube recall Oltenia's long history.
Dolj
Dolj County is framed by the Danube and the Carpathians, with the Jiu and Teslui rivers flowing through the lowlands and hills. The region is largely agricultural, producing wine, grains, and vegetables.
Romanian traditional cultures are particularly alive here. Folklore, folk art and dance, and national costumes are its pride.
The capital of Dolj is Craiova, a university town with a strong academic tradition.
Craiova
Craiova, the capital of Dolj County, lies on a flat area where an ancient Dacian fortress once stood. It is situated near the east bank of Jiu River, which supplies the city with water through purification stations.
The city has many cultural and architectural monuments, such as the National Theatre; the neoclassical former Palace of Justice; the lavish renaissance and baroque style Jean Mihail Palace which houses the Art Museum featuring impressive works of world-renowned sculptor Constantin Brâncuşi and the romantic Romanescu Park.
Craoiva is an important university town, home to the University of Craoiva and the University of Medicine and Pharmacy, and many vocational schools.
The city is also a bustling commercial and industrial centre, thriving on machinery, chemical production, and metallurgy.
---
Find properties for sale in Southwest Oltenia Region, Romania