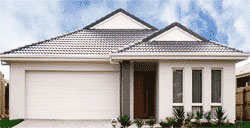 The mostly residential Southern Suburbs lie southeast of the City Bowl and Table Mountain, from the bottom of Table Mountain National Park all the way to Cape Point. There are a lot of trees and vegetation in the area, and blankets of clouds hang over the mountains that serve as natural shields from rough winds.

The houses here range from traditional cottage-style homes to more grand and ornate villas. Large, cultivated gardens complement the wild natural beauty of the area. Property values are quite high on average, as the area is much sought after for its proximity to the beaches, though some suburbs are more high-end than others. There is a lot of shopping and sight-seeing opportunities in the area, and restaurants and cafés to nip into for a bite and a drink.
The Southern Suburbs is also home to the University of Cape Town. The areas surrounding the school naturally exude a lively and youthful atmosphere, ideal for parties and affordable student accommodations. More affordable housing can be found in these parts.
Claremont
Claremont is one of Cape Town's southern suburbs and an upmarket residential and commercial area. It has two excellent malls, Cavendish Square and The Link, that are connected to each other. The shopping centres have a large number of shops, including large chain stores.
Near the malls is the classy shopping lane, Cavendish Street, with wide pavements and Victorian-style shops and boutiques. Large homes and apartment buildings can also be found in the area. Trendy Harfield Village offers spacious apartments that were once labourers' homes. The quaint village has tree-lined streets and is very popular with young people.
Claremont is close to Cape Town's popular attractions, such as the Constantia Valley wine route, the beaches on False Bay, Newlands Cricket Ground and Rugby Stadium, and Kirstenbosch National Botanical Garden.
Rondebosch
Rondebosch is one of Cape Town's southern suburbs, and is primarily residential. Its centre is the Main Road, which is distinguished by its Victorian, cast-iron Rondebosch Fountain. Flower sellers brighten up the street near the fountain with their wares.
This area, between Main Road and Belmont Road, serves as the suburb's commercial centre, with rows of stores and a few shopping malls.
Another well-known Rondebosch landmark is the historic Groote Schuur estate, which features fine examples of Cape Dutch architecture, including the Cape Town residences of the President and Deputy President, the Groote Schuur Hospital, and the University of Cape Town.
The suburb has a vibrant atmosphere, thanks to the university's presence. Residential areas are also generally denser here, in the western part of Rondebosch.
Rondebosch also has the Mother City's second biggest theatre complex, the Baxter Theatre.
Newlands
Lying at the foot of Table Mountain is the upmarket suburb of Newlands. This Cape Town southern suburb is a famous sports centre, and the Newlands Cricket Ground and Newlands Rugby Stadium are its most popular attractions.
Newlands is lush and verdant, thanks to high winter rainfall. Many of the highly sought-after residential properties here are nestled within the suburb's forested surroundings—Newlands' forests are actually part of the Table Mountain National Park, and the homes here have lovely gardens and breathtaking views of Table Mountain.
The suburb offers excellent restaurants, cafés, shopping centres, and sports facilities.
Wynberg
Wynberg is a suburb and a vital transport hub for Cape Town's Southern Suburbs. Once a British garrison town, Wynberg later became the home of the astronomer John Herschel in the mid-19th century.
Wynberg is noted for its high number of historical buildings, some of which are part of the area's fine old schools.
Kenilworth
Kenilworth is a residential suburb of Cape Town. Many of the houses and visitors' accommodations have expansive gardens, swimming pools and a magnificent view of Table Mountain.
The suburb is conveniently located near some of Cape Town's popular attractions – Claremont's award-winning Cavendish Square Shopping Centre, Constantia Valley's wine estates, Cape Town Central, and the white sand beaches.
Kenilworth is known for the Kenilworth Race Course, which hosts South Africa's most prestigious horse racing and social event, the J & B Met.
Constantia Valley
Constantia Valley is a breathtaking landscape of mountains, pine forests, vineyards, rugged paths, and horse-riding trails. But best of all, it is Cape Town's well-loved wine route and South Africa's oldest wine-growing estate.
Originally just one large farm owned by the first governor of the Cape Colony, Simon van der Stel, Constantia has been divided into smaller farms.
Four estates from the original farm remain today: Groot Constantia, Klein Constantia, Uitsig, and Buitenverwachting. Each boasts a unique tradition and produces award-winning wines.
Groot Constantia, in the heart of the valley, is the oldest wine farm in South Africa, and was van der Stel's home. Lying at the foot of Constantiaberg mountain is Klein Constantia, now family-run.
Constantia Valley is an upscale residential suburb, notable for its large and stately homes with expansive lawns and gardens.
Tokai
Tokai is a residential suburb of Cape Town, nestling in the foothills of Constantiaberg mountain. Once dominated by wine farms, Tokai features some old Cape Dutch homes.
Built in the late 1940s, the suburb has large and beautiful houses with manicured gardens and tree-lined paths. There are guest houses and bed and breakfasts here as well. In the surrounding area are lovely streams, pine plantations, and greenbelts that are home to various birds, frogs, and insects.
Tokai is near popular attractions such as the Constantia Valley wine estates, the beaches of False Bay, and the Silvermine Nature Reserve. Shopping centres and golf courses are also close at hand.
Bergvliet
Bergvliet, which means "mountain streamlet" in Afrikaans, is one of Cape Town's Southern Suburbs. It was once a farm owned by Simon van der Stel, first governor of the Cape Colony. The old farmhouse still stands today, its Cape Dutch design partly hidden by pines amidst a vast plantation.
The residential suburb is lush and peaceful. Most homes for sale are gated, and many have gardens with swimming pools. A number of primary schools, shops and sports centres make living here convenient.
---