1638_hambatoaThis economically backward region is divided into three districts: Galle, Hambantota and Matara. The wildlife sanctuaries of the Yala and Uda Walawe National Parks are important sites here, with the holy city of Kata Ragama and the ancient cities of Tissamaharama, Kirinda and Galle. The province was severely affected by the Boxing Day Tsunami of 2004, and it is still going through a process of recovery and reconstruction.
Galle District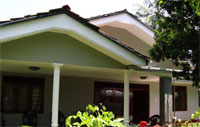 The Benthara River in the north flows through this district, which is bordered in the north and south by the Indian Ocean. It was hard-hit by the tsunami in 2004, and the recovery process for the district and its people continues to this day.

Galle's Sinharaja rainforest is a UNESCO World Heritage Site. It is the last viable area of primary tropical rainforest on the island. More than 60% of the flora and fauna are rare and endemic to the area. The wildlife includes birds and over 50% of the country's mammals, butterflies, insects, reptiles and rare amphibians. Visitors to the park have to get a permit from the Wildlife Department first. Numerous streams and rivers cover much of the park. Wildlife species sheltered here include the spotted leopard, the purple-faced langur, barking deer, and wild boar.
Galle City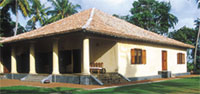 Galle is an old fortified city, and one of the largest in Sri Lanka. It was devastated by the 2004 tsunami, which killed thousands of residents and tourists and destroyed buildings. Today, Galle City is still recovering from the catastrophe.
The coastline all the way up to Bentota is still popular with tourists. The coast is very attractive, and lined with plantations and estates producing cinnamon, rubber, and tea. Koggala Beach is a peaceful luxury retreat. Mirissa is a thriving resort area with a beautiful beach and many guest houses and hotels.
Galle Fort

Galle Fort was built by the Portuguese and modified by the Dutch in the 17th century. Thanks to the reconstruction efforts of the government's Archaeological Department, the 400-year-old fort is in good condition today.