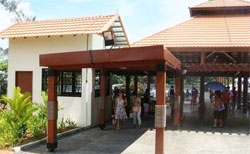 Kusu Island, Lazarus Island, Pulau Seringat, Pulau Tekukor, Saint John's Island, Sentosa and the two Sisters' Islands make up the Southern Islands, with a total land area of 5.6 square kilometres.

The development of these islands will help the Singapore government reach its target of 17 million visitors annually by 2015. Developing it into an environmentally friendly, culturally significant tourist hotspot where locals can also take a break from work and the city's fast pace seems to be a logical move for the government.
Sentosa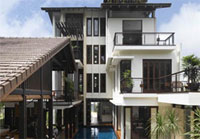 Sentosa is currently the most developed island of the Southern Islands. It is from here that work is done to upgrade the facilities of its neighbours. The Sentosa Development Corporation is in charge of developing the other islands.

Sentosa is a one-stop resort destination for the entire family, with attractions ranging from golf courses to theme parks. It also has a marina and a resort. It is now linked to the Mass Rapid Transit by the Sentosa Express.

The island has been redefined into distinct zones serviced by three express stations: Water Front Station, which serves the mega development in the area, Resorts World at Sentosa; Imbiah Station, from where you can visit historical buildings adapted for resort use, as well as the cable car, Butterfly Park and Insect Kingdom, and the Sentosa Merlion; and Beach Station, which has three white sandy beaches, each with its distinct character—from a lively beach suited for everyone to a family-friendly beach to a tranquil one where visitors can sit in silence and commune with nature.
Sentosa Cove is a luxurious waterfront residential area which will contain a mix of luxury houses, apartments, marina hotel, full yachting marina amenities and quayside commercial units and will be open to foreign ownership.
These and developments such as Universal Studios Singapore, Marine Life Park, Water Park, Maritime Xperiential Museum and many others are sure to make Sentosa the place to be.
---