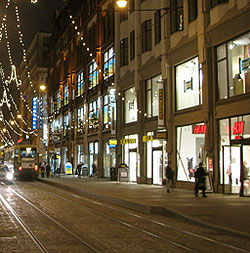 Southern Finland is Finland's most populous province. It has peaceful fishing villages, ski resort towns, and large urban centers, including the nation's capital, Helsinki, which with the neighboring cities of Espoo and Vantaa form the country's largest urban concentration, the Greater Helsinki Area.

About 50 km east of Helsinki is the small town of Porvoo. This lovely town delights visitors with its many red wooden shorehouses along the riverside. More quaint old buildings can be seen in the area called the Old Town of Porvoo, built on cobblestoned streets around a medieval cathedral.
Lappeenranta
Lappeenranta is a charming harbour town on the southern shore of Lake Saimaa. It is a popular summer destination, drawing visitors to Myllysaari Beach, as well as its lively port district where people drink and eat on the terraces, party to live music, and enjoy boating on the lake. Lappeenranta is also popular as a shopping mecca, particularly among Russian tourists.
In the Kymenlaakso region on the southeast coast, you will find many old villages where the traditional fishing lifestyle goes on to this day. The Kymenlaakso region is also a good area for winter sports; it offers a number of family-oriented ski centers such as the Mielakka resort near Kouvola.
Southern Finland is home to many recreational nature areas, including Repovesi National Park, a popular hiking area known for its lush forest areas and beautiful lakes.
Hameenlinna
The representative and administrative centre of the province is Hameenlinna, a small provincial town by Lake Vanajavesi and known for a medieval castle, the ruins of an ancient Viking settlement, and artifacts from an even earlier time the Iron Age.
The town is named after its most famous sight, the massive and sturdy Hame Castle (Hameen Linna) in the centre of the city, its red-brick walls looming over Vanajavesi. It was built by the Swedish lord Birger Jarl to strengthen Sweden's authority in the country in the late 13th century. It is now a museum.
One of the world's first urban parks is here: the 130-year-old Aulanko Nature Reserve, where fairytales are reenacted in the "ruins" of a mock castle, colourful silk scarves, ties and handkerchiefs are sold on the grounds, and biking, water sports and horse riding are popular activities.
Several annual cultural events are held in Hameenlinna, including the Linna Jazz and amyrock music festivals, the children's festival Hippalot and the medieval fair of Castle Hame.
---