Kulosaari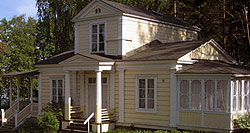 Kulosaari Island is an exclusive and wealthy residential district. In the early 1900s the architect Lars Sonck planned a residential community reflecting the British garden city aesthetic. He designed the villas in the southern and eastern parts of the island, which still stand today. Much later, in the 1960s, modern low-rise flats were built on the island's north.

Kulosaari has a highly educated and fairly well-off populace, which includes many members of the diplomatic community. The inhabitants enjoy the quiet and secluded atmosphere, and many recreational spaces. The district includes Mustikkamaa, a popular area for recreation and entertainment, with a summer theatre schedule and outdoor activities the year round, and Kivinokka, which juts out into the Gulf of Bothnia and has a beautiful park. And Helsinki Zoo is on the nearby island of Korkeasaari, which is connected to Mustikkamaa by bridge.

On a walk along the Kulosaari coast near the park, you get a fine view of Suomenlinna island fortress.
Herttoniemi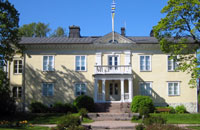 Herttoniemi used to be a village around a 16th century manor. The Herttoniemi Manor still stands here today, surrounded by red farm buildings and a majestic, oak tree-filled park.

In the 1950s, Herttoniemi was developed into one of Helsinki's first suburbs. It is one of the city's oldest industrial areas. In the 1990s, the old harbour was converted into a marina and residential area called Herttoniemenranta (Herttoniemi Waterfront). This area is made up of high-rise apartments that house many of the people who work at the adjoining industrial zone.
Tammisalo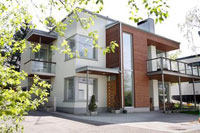 The prime property area in Herttoniemi is the wealthy neighbourhood of Tammisalo, a peaceful area close to several nature spaces and dotted with parks. The nearby Roihuvuori area serves a community of around 8,000 inhabitants. Most of the buildings here were constructed in 1955-1965, and reflect mid-20th-century styles. Housing prices here have remained moderate over the years, causing it to attract many first-time home buyers.

Roihuvuori has proven especially attractive to Japanese expats, many of whom work for Helsinki-based Japanese firms. It has a Japanese-style garden that includes a large grove of cherry blossom trees. The Herttoniemi Industrial Park is one of the main job regions in Helsinki. A wide variety of companies are based here and offer employment to more than 5,000 factory and office workers.
Laajasalo
Laajasalo, south of Helsinki in the Gulf of Finland, is rich in nature and beaches. The district is made up of several islands, including Yliskyla, Vartiosaari, Villinki, Jollas, Hevossalmi, and Tahvonlahti.

The district was the site of many 17th century manors. During the late 1800s and early 1900s, many wealthy Helsinki inhabitants chose to build their summer villas there. From the 1960s to the early '70s, apartment buildings and terraced houses also went up here.

Most of Laajasalo's commercial services are to be found in Yliskyla, which has a lot of council housing blocks. Vartiosaari and Villinki are popular sites for summer homes. Vartiosaari in particular has lovely nature areas and beaches. Jollas and Hevossalmi are experiencing a burst of residential construction, and their population is growing swiftly.

Tahvonlahti is the site of the Laajasalo oil port, which is being converted into a new waterfront development that will include residential spaces for 10,000 inhabitants. Construction on this area, which will be called Kruunuvuorenranta, is expected to begin in 2010.
---