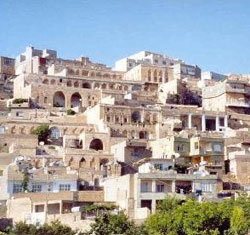 Less than 100,000 square kilometres in size, Southeastern Anatolia is the smallest region in Turkey. However, it has many notable natural features—valleys and plateaus lying along the Taurus mountains, vast inland plains that have been developed into farming lands. The region has a continental climate of long, dry summers and brief, cold winters.

Southeastern Anatolia is generally still agricultural, though the communities use modern methods and equipment in farming and stock breeding. Most farmers grow wheat, barley, lentil, tobacco, cotton, and pistachio nuts. Since Southeastern Anatolia is an important resource for petroleum and crude oil, many also work in oil refineries and filling facilities.
In general, Southeastern Anatolia has a unique regional atmosphere. Instead of beaches, it has factories and mills that produce textiles, metal goods, food, and agricultural equipment. Gaziantep, the region's largest city, is one of the country's most important manufacturing and industrial centres.
Gaziantep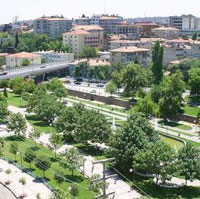 Gaziantep is the most important cultural and industrial centre in Southeastern Anatolia, and a famous producer of pistachio nuts.

The province owes its rich past to its Hittite beginnings, and traces of its legacy and those of the settlements that followed can still be found in it to this day.

Kargamış was the capital city of the Late Hittites. Temples and hilani, or palaces, have been excavated here. Artefacts are housed in the Museum of Anatolian Civilizations in Ankara. In the old city of Yesemek, about 200 statues from the time of the Hittites were found in an ancient quarry. The city of Belkıs has Hellenistic, Roman and Byzantine architectural ruins.
There are stone houses with inner yards and basements, fine wooden doors and windows along Gazantiep's narrow streets. The finest examples of these traditional houses can be found in the town centre and in Şahinbey.
The Rum Citadel, where the first manuscript of the New Testament was believed to have been kept in the past, still stands over the Euphrates River. Two much more recent establishments, the 18th century Zincirli Bazaar and the 19th century Kemikli Bazaar, still draw shoppers. The Monument of Martyrs, built in honour of those who fought during the War of Independence, also deserves mention.
Sirnak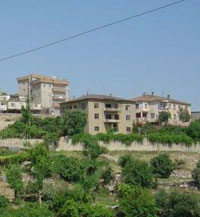 The new province of Şırnak may be small, but it its scenery can be inspiring: high mountains and deep canyons and gorges, plateaus and rivers.

Trade, agriculture, and animal husbandry occupy Şırnak's economic life. The province produces crops, grapes, and pomegranates. It is also well known for kilim, or traditional woven rugs, and woven bags and scarves.

At the foot of Cudi Mountain lies the city of Şırnak, which means "the city of Noah"; some believe that Noah's Ark landed on Cudi and not on Mount Ararat.
Şırnak's historical treasures include fortresses, the Virgin Mary Church in Cizre, Neolithic and Assyrian rock carvings, and the bridges of the Kasrik Pass from the Seljuk period.
---