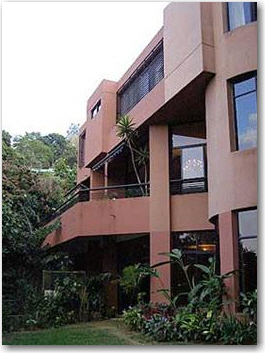 Caracas' Southeastern (a prime area) district has some lush and upscale suburbs. The increase in population here has led to the development of large shopping malls with multiplex movie theatres in neighbourhoods like La Lagunita and Los Naranjos. Exclusive housing complexes are also rapidly increasing. Between the residential areas of Los Naranjos and El Cafétal in the Eastern district is built the Terrazas de los Pomelos, which enjoys views of the city and a pleasant mountain climate.
Alto Hatillo is also the site of a private housing complex, La Hatillana. Wide green areas surround the luxury homes which have great views of the stunning El Ávila National Park. It has a swimming pool, a tennis court, and a children's playground.
El Hatillo is a quaint 16th century town turned into a suburb of Caracas. Here, old houses are transformed into commercial spaces, but their colonial features are still recognizable. There is also a newly built shopping mall here, the Centro Commercial Paseo El Hatillo.
The largest mall in South America, Aeromall, is still being constructed between Los Campitos and Sante Fe in the Southeastern district. It combines shopping, dining, entertainment, leisure and nightlife. It has a park with roller coasters, a wheel, an ice skating rink and a heliport.
El Hatillo
Located southeast of Caracas, the old colonial town of El Hatillo lived sleepily for many years until it was eventually absorbed by the burgeoning city. It is now a trendy getaway for Caraqueños. The main streets and pretty plaza still retain many of its 16th century buildings, now painted in sugary, bright colours and filled with fancy restaurants and cafés, art galleries and craft shops. There are countless boutiques tucked away in the narrow side streets.
El Hatillo has an extraordinary number of eating outlets that serve major international cuisines like Japanese, Thai, French and Italian.
Modernity, however, has been taken to the extreme in some aspects. The parish church in the plaza looks typically colonial from the outside, but the interior was radically modernized, creating controversy. Nevertheless, the plaza still has that small town atmosphere, with children skipping in the square in most afternoons, fairy lights illuminate the streets as evening falls, and shrills of crickets are heard from all around.
---