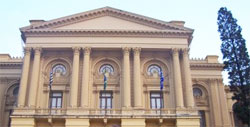 São Paolo's Southeast is quite historic. The Ipiranga district is noteworthy for its Independence Park, where Dom Pedro I declared Brazil's independence in 1822. The Museum of Ipiranga, with its traditional architecture, displays artefacts of Brazil's colonial period.

During the late 19th and early 20th centuries, Italian migrant workers settled in Mooca, then an industrial city. Today, the community holds yearly festivals in honor of Italian saints. Food and wine is served on the streets, which are thronged with traditional dancers and musicians. Ornately decorated old houses designed by maestri, or master builders, survive among Mooca's modern buildings.
Aricanduva-Formosa is situated on the west bank of the Aricanduva River, which flows through São Paolo from east to southeast. Because part of the valley cuts along the river's course, floods are common in the area. Aricanduva has both the largest cemetery in Latin America, in Vila Formosa, and its biggest mall, the Shopping Leste Aricanduva.
---