South West Delhi is close to Delhi's Indira Gandhi International Airport and the domestic airport. It is home to Asia's largest residential area: the R.K Puram, also Asia's largest colony of government employees.
Vasant Vihar
Vasant Vihar, casually called VV, has some of Delhi's most expensive residential property, mainly along the Outer Ring Road, Palam Marg. There are also company housing developments, from airline workers to government workers. There are some foreign embassies.
The Basant Lok shopping centre has international chain stores, restaurants, and lounges, plus a huge cinema. The Uttara Swami Malai Temple is in the outskirts of VV.
Najafgarh
Najafgarh, a highly populated area on New Delhi's outskirts, has Jat, Yadav and Brahmin communities. Around these somewhat disorganized colonies are many farmhouses belonging to businessmen or VIPs. Najafgarh has bus connections to all parts of Delhi and is less than 20 km from the national and international airports.
Delhi Cantonment
Delhi Cantonment was founded by the British Indian Army, and is home to many military-related institutions, including the Headquarters, the Army Golf Course, the army and air force schools, the army hospital, and military housing.
This area is a hub of public transportation, being connected to different parts of the country by the Delhi Cantonment Railway Station. It is also served by the Janakpuri metro station and lies just 5 km away from the Delhi Airport. Delhi Cantonment is also well-connected to various parts of the city by bus.
Vasant Kunj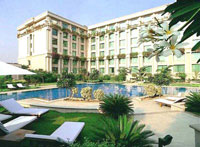 Vasant Kunj is a residential area with at least 100,000 residents. It is divided into four main sectors, A, B, C and D. The oldest area, built in the late 1980s, is Sector A.

Though an upscale area, Vasant Kunj has had problems. It used to experience water shortages, now largely solved. Also there were murders here in the last decade. Since then, security has improved.
Commercial Plaza
Commercial Plzain C-2 has restaurants and a disco, but neighbouring Masoodpur village meets most Vasant Kunj's residents needs. But large malls will soon open in Vasant Kunji, including the upscale Emporio Mall. There are a couple of hospitals in the area.
The 13th century octagonal tomb of Nasir ud din Mahmud (the son of a Mamluk dynasty ruler) is the main architectural attraction.
The Indira Gandhi International Airport is five km away from Sector C Pocket 8.
---