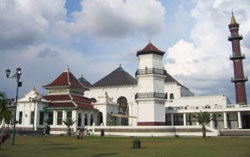 The province of South Sumatra is on the island of Sumatra. Its provincial capital is Palembang.

The province is flat but nevertheless a very fertile land as rivers snake through the region. It is also rich in history. Its capital Palembang was once the seat of the Srivijaya Hindu Empire which established strong trade relations with the ancient Chinese dynasties.

Palembang
South Sumatra's provincial capital and the second largest city in Sumatra is the historic Palembang. It was once the capital city of the Hindu Empire Srivijaya. Its closeness to the mouth of the Musi River makes it an important trade port. Palembang thrives in oil production, among other industries.
The Musi River cuts along the sprawling city. The Ampera Bridge connects its two sides. Musi River's banks are dominated by houses on stilts built on piles. Most people live in Seberang Ulu on the southern bank, which is pretty crowded and chaotic. The northern bank, Seberang Ilir, is a commercial and residential district. The government offices are here, as well as many hotels, shops, and restaurants. The residential areas here cater to the more affluent. Ulu and Ilir are both old districts where traditional limas and gudang houses can be found. Limas houses are quite expensive as they are now rarely built.
Plaju and Sungai Gerong are industrial and residential areas that cater mostly to Europeans. Oil refineries, fertilizer plants, and textile factories are built here. Residential complexes feature swimming pools and tennis courts. More affordable residential compounds have also been built to accommodate company employees.
---