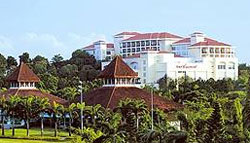 South Sulawesi is a province of Indonesia, in the south western peninsula of Sulawesi island. The provincial capital is Ujung Pandang, formerly Makassar.

The Bugis and Torajas are the most dominant ethnicities here. The former are famed seafarers, and the latter are known for their rich cultural traditions that are said to rival those of the Balinese.
Ujung Pandang is a historic port city that embraces the ocean. In the evenings, the townsfolk congregate around the esplanade. It hugs the bay and is swathed with gently swaying coconut trees, wide walkways, and roving food stalls. There are colourful shops and homes that have panoramic views of the beach and dramatic glimpses of sailing schooners at sunset.
In the past, Ujung Pandang was the heart of Southeast Asian trade. It was the main port for all ships carrying spices. Centuries later, the town still has not lost its attraction.
The south coast of the province is where the Makassarese make their home. These master ship builders with long generations of piracy still make by hand these proud ships. The beaches along this coast are filled with masts and strong pinsi hulls from the hundreds of fishing boats parked on the sand. Fortunate visitors may chance upon festivals where boat racing commemorates the departure of a fishing fleet.
A popular attraction here is the unique funeral ceremonies of the Tana Toraja, Lemo, and Londa.
Ujung Pandang/Makassar
Ujung Pandang, formerly known as Makassar, is South Sulawesi's provincial capital and the gateway to Eastern Indonesia, with local and international connections. The city has been an important seaport and trading centre since the sixteenth century.
One can get a glimpse of Old Makassar through the well-preserved Fort Rotterdam at the centre, a great reminder of the Dutch occupation. Remnants of the old Gowanese kingdom can be found on the southeast borders of the city.
Ujung Pandang is dominated by large hotels at the beachfront and shopping malls in Panakakkung inland. The modern city continues to expand to accommodate more and more suburbs. There is much anticipation in the completion of Tanjung Bunga township southwest of the city. The development is planned to become a commercial, residential, and tourism complex.
---