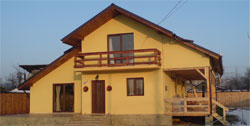 South Muntenia is the land of Dracula. At the foot of the seemingly sinister Fagaras Mountains stands the castle of Vlad the Impaler, the 15th century prince of Wallachia who was the inspiration for the famous fictional vampire.

Beyond Bram Stoker's exaggerations, however, is a gorgeous expanse of mountains and forests teeming with deer, wolves, bears, and wild boar. With the Carpathian peaks and the fertile Danube Delta nearby, it is a dramatic panorama, with strong contrasts of colours and shadows.
The land is rich, arable and perfect for organic farming, as number of vineyards, orchards, and fields here attest. Towards the south there are impressive archaeological sites rich in prehistoric artefacts.
South Muntenia is Romania's largest producer of petroleum products and chemical equipment.
Prahova
The county of Prahova is in Muntenia. Its capital is Ploieşti.
The Prahova River Valley divides the county in two, and through it flows the river that gave the county its name. The southern hills of Prahova are cultivated with fruit orchards and vineyards. Prahova is also a popular ski zone in the winter.
The county is a big industrial region, being the source of nearly half of the country's oil production. The plants of several multinational giants are based in Prahova, but unfortunately this means that the county is highly polluted due to industrial activity.
Ploieşti
Ploieşti is an important industrial centre, with major oil production facilities. Many multinational companies operate here.
Romania's oil city has interesting cultural and architectural sites such as the Cultural Palace, the Clock Museum, the Art Museum, and the Oil Museum. Many monuments can be found on Chestnut Boulevard and downtown.
Ploieşti lies on a trade route connecting Bucharest and Braşov. With its improved roads and infrastructure, the city is fast becoming an alternative investment choice for businesses and company employees. Many of Ploieşti's rural areas are being developed into residential communities, their property values already increasing.
Novicio Residence is a newly built residential complex in Ploieşti, offering 2-level villas and houses. Irish Town in Ploieşti's north offers single and semidetached 2-level houses. The assembly is near schools, kindergartens, hypermarkets, gas stations, and the county hospital.
Busteni
Busteni, which means "tree logs" in Romanian, is a small town north of Prahova. It is a famous year-round mountain resort, possessing magnificent views and a pleasant climate. Vacationers go mountain biking, rock climbing, hiking and skiing here, and take cable cars to the Bucegi Massif. Busteni thrives on tourism and the local wood industry. There are many holiday homes in town.
Busteni was the site of military confrontations during World War I. Atop the Caraiman Massif is a 40-metre steel cross that stands in memory of the soldiers who fell while defending Romania.
---