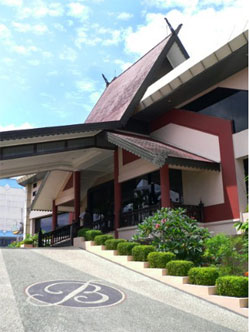 South Kalimantan is one of four provinces on the island of Kalimantan. It is known as the Province of a Thousand Rivers. One of these is Batlo River, the longest and largest river in Indonesia. The grounds are fertile and their vast expanses of trees make South Kalimantan one of Indonesia's biggest wood suppliers.

The provincial capital of Banjarmasin is the heart of South Kalimantan's tourism and trade. It is also known as River City because of the many rivers that snake around and through it. Floating markets and houses made of wood and bamboo are commonly seen on the river.

Nearby Banjarmasin is Kembang Island, a 60 hectare conservation forest filled with monkeys indigenous to Kalimantan. Chinese Indonesians usually come here to make a small offering to the temple and to feed the monkeys whom they feel, will give them good luck and fortune.
Cempaka village is a site known for diamond digging, work done as a group made up usually of one family and its close relatives. Nearby is Martapura village, the centre of precious stone and diamond polishing and marketing. The plaza here is full of stores and stalls selling jewellery.

Banjarmasin
Banjarmasin is South Kalimantan's provincial capital and the largest city in Kalimantan. The city is built around and along four rivers—Andai, Barito, Kuin, and Martapura—with several canals, which makes one think of Venice. Most houses in the city are built on stilts on the sides of the rivers, where people bathe, swim, wash their laundry, and catch fish.
Banjarmasin is a trade and tourism centre. There are many hotels, cultural centres, theatres, and restaurants serving local and international cuisines. But the best sight here is the large and lively floating market, Pasar Terapung, located at Banjarmasin's west borders on the Barito River. The market has everything, from rice stalls to fresh produce stands, supermarkets to boutique shops, pharmacies to gas stations. The most charming here are the tea shops, which sells a variety of sweets and delicacies.
The city also thrives in the construction and boat-building industry, with shipyards operating on the riversides.
For a taste of history, Banjarmasin has the Grand Mosque, Sabila Muhtadin Mosque built in 1980, at the waterfront.
Banjarmasin is not a wealthy urban centre, and it experiences drinking water shortage and has cholera outbreaks.
---