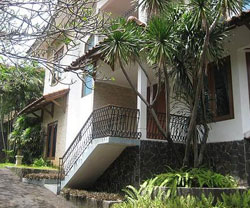 South Jakarta (a prime area) is the largest city in Jakarta and is perhaps the glitziest part of the capital. It has adopted this reputation because of the many luxury shopping areas that are scattered throughout the area. From Blok M Mall, Blok M Plaza, Pasaraya, Plaza Senayan and Pondok Indah Mall, all of them carry a wide variety of merchandise, from local handicrafts to international brands.

South Jakarta is full of prime residential districts. Within these districts are restaurants, different chains of supermarkets and other service establishments.

Kemang is a popular residential area, consisting of beautiful modern homes nestled in narrow streets and alleys. The homes are relatively large establishments with sprawling gardens and discreetly hidden behind tall walls down. Strangely enough, these tiny roads are not enough to keep the expats away. It is a 10 to 15 minute drive to the Cilandak Campus of Jakarta International School, as well as near shopping malls in Kebayoran Baru and Pondok Indah. Kemang is also the new location of the primary school campus of the relatively new Australian International School.

Lebak Bulus is a small neighbourhood near the Jakarta International School with some great housing complexes.
There are also a few attractions in South Jakarta that are visited by residents and visitors, such as the Ragunan Zoo. It is a great little place that provides good information about endangered species and animal protection.
Sudirman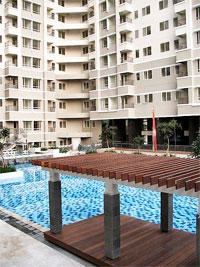 Sudirman is Jakarta's version of Wall Street. It is a prestigious location for businesses, where international hotels, reputable banks, luxury apartment buildings, embassies and other foreign companies are based. This four lane avenue is a never ending parade of traffic.

Sudirman has many modern high-rise condominiums. The Da Vince Tower is one such luxury residence. It is a modern 34-story Roman style condominium full of magnificent penthouses with modern facilities such as finger-scan security access, chefs on call and a 24 hours butler and concierge service. The indoor pool is decorated with marbled Italian floors, stained glass windows, bronze fittings and wood inlay. A place here unsurprisingly, costs a pretty penny.
Kebayoran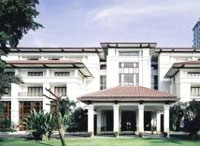 Near Sudirman is the quiet neighbourhood of Kebayoran Baru. This well planned and organized area is lined with large homes, and large streets shaded with old trees. The Pattimura Elementary campus of the Jakarta International School is here, as well as ready access to shopping facilities such as Pasaraya, Blok M, Plaza Senayan and Blok M Plaza.

Kebayoran Baru is an affluent residential area. It is where many wealthy citizens, such as the country's vice president and other Indonesian business tycoons, live. Prices of land here are at par with that of Menteng. Although meant to be solely a residential area, the area is full of many commercial ventures. The administrative village of Senayan, for one, has a large population of businesses run by Korean expatriates.
Senayan also has a Sports Complex and Golf Club. Both traditional markets such as Blok A Market and Mayestik Market and luxury shopping centers abound here.
While the major roads in the area can become very congested, the smaller side streets still remain tranquil. Kebayoran Baru is the only neighbourhood in Jakarta that follows the organized system of "blocks".
Kebayoran Baru is also famous for its nightspots. The hip and young will always be found hopping from one new club to another. A number of hotels can also be found in the greater Kebayoran Baru area.
Pondok Indah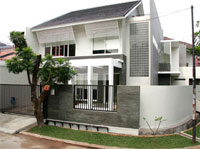 Pondok Indah is a posh organized residential community in South Jakarta. Mansions as well as smaller, though still relatively large homes line the shady streets of this neighbourhood. Pondok Indah is very near the Cilandak campus of Jakarta International School and where the Pondok Indah elementary campus of the Jakarta International School. This proximity to the most popular schools for expatriates makes it a very sought after suburb.

The homes in this area are modern in structure, running at an average of 1000 square meters with two to three floors, gardens and pools. It is not uncommon for expatriate families here to have a full in-house staff of household help: nannies, chauffeurs, security guards, cooks, gardeners and other staff. Many of the residents in this area are expatriates as well as wealthy Indonesians.
Pondok Indah Mall (also known as PIM) 1 and 2 has been a long time shopping complex that caters to the many needs of the residents. Designed to look like an American shopping mall, it is a favourite amount expats and wealthy locals. The shopping complex is made up of two 5-floor shopping malls filled with a water park, bowling lanes, restaurants, billiard halls, arcades, movie houses, department stores and over 400 specialty shops. PIM 1 and PIM 2 are connected by an air-conditioned pedestrian bridge outfitted with two lifts on each side. At the time it was built, it was the most expensive of its kind. After the financial crisis though, there was a change in ownership and the pedestrian bridge was torn down to make way for two multi-level sky bridges.
Pondok Indah has a go-kart race track and the Pondok Indah Country Club, with a great golf course and other top of the line sporting facilities such as a pool and fitness centre.
Outside of homes, Pondok Indah also has apartment complexes such as Golf Hill Terraces, Le Crystal Serviced Residence and the Poins Square Apartment.
Cilandak / Cipete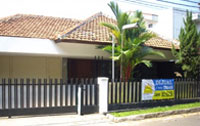 The beautiful homes in Cilandak are hidden behind small alleys. This middle class suburb is a popular expatriate area due to the Cilandak campus of the Jakarta International School and the nearness of Kemang, popular for its specialty shops and restaurants.

The area has many choices for homes. Those who are more comfortable with the ground underneath their feet may opt for an elegant house or town house in the Cilandak Commercial Estate. Many apartment complexes also abound in the area. Also a great choice for families, these low rises have great facilities such as large swimming pools.
Cilandak Commercial Estate, while a residential area, is also a humble business area, though home to a few industry giants.
Cilandak is a green area in the city and not too packed with chaotic entertainment spots or towering skyscrapers. It evokes a very casual atmosphere, with numerous places to simply "hang out". Cilandak Town Square is one such area brimming with cafes and cinemas, and has a 24 hour supermarket and an amusement park.
Pasar Minggu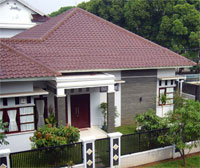 For foreigners looking to send their children to Australian International School, Warung Buncit and Pasar Minggus are great areas to consider. The winding streets throughout the areas have a wide range of residential options. The houses and apartments here are cosy and an eclectic mixes of large and small homes.

CBD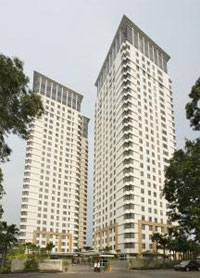 In the past years, many companies in Jakarta fought for coveted space in the capital's CBD. But as progress continues to infiltrate Jakarta, the business district slowly may be losing its charm with corporations. At an attempt to decrease the heavy pollution in the area, the district government has issued a three-in-one rule for all main roads here, meaning all vehicles must have at least three persons to be able to access the roads. Members of the informal sector man roads entering the area, and for a fee, can ride as a vehicles extra person in the event that a car is lacking one.
Despite all this though, the CBD will remain for a while at least, the main choice for many companies looking not only to remain close to their clients, but are in need of further exposure. Unfortunately, as the economy continues to boom in this area, the slums also in this area, continue to overcrowd.
Kuningan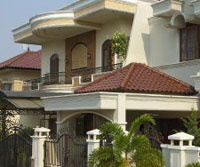 Kuningan is the one of the fastest developing areas in South Jakarta. Though a residential area, its commercial buildings have become sought after by businesses as well, making the area almost exclusive. The shopping areas here are full mostly of specialty shops with higher prices. It is an area popular for mixing business with pleasure.

Setiabudi Plaza has many high end restaurants serving cuisines such as Italian and Japanese. It is also filled with beauty salons, cafes, shopping complexes, and cinemas. Yet at the same time, the complex includes business centres, banks, travel and tour agencies, marketing and sales offices, law offices and major oil and gas companies. There are many 4 and 5 star hotels in the area as well.
The residential areas in Kuningan are lined with well organized sprawling homes among streets lined with shady trees. There are a number of great apartment complexes to choose from as well. It is also a choice spot for many embassies as it is relatively near Menteng. Kuningan was planned as an area for diplomats and because of this, has some very stately residences.
The closest school to Kuningan would be the Pattimura elementary campus of Jakarta International School.
Like many areas in the South Jakarta, Kuningan has bad traffic during rush hours.
---