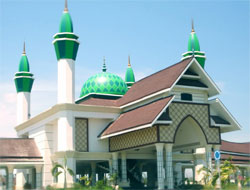 The province of Southeast Sulawesi is one of the most remote regions on Sulawesi Island. No major highways connect the cities and it has a small population of just over 1.7 million. Its provincial capital is Kendari.

Southeast Sulawesi is quite unique in shape; it is often likened to that of an orchid. Much of the area is wrapped in jungle with large plantations of ironwood and teak that are used by the local communities to make handicrafts.

Kendari
Southeast Sulawesi's capital is the bay town of Kendari, a main tourist destination. Kendari enjoys dramatic sunsets over its beautiful beaches, particularly Kendari Beach. There are many food stalls around the bay, as well as delightful floating restaurants serving grilled seafood. Everything else can be found along Kendari's main road.
East of Kendari is the unique Motamo Waterfall, which flows through seven terraces, each pool great for swimming.
Kendari is known for its beautiful handicrafts. Kendari hosts the regional Kendari Bay Festival which features traditional folk dances, boat racing, traditional fish catching, and coin-diving popular to kids.
---