Posh and elegant, South Delhi hosts some very famous monuments, such as Qutub Minar, Purana Quila and Humayun's tomb. It is one of New Delhi's important commercial districts. Though upscale, it has a diverse range of establishments, from sidewalk cafeterias to fast foodstores like McDonald's, to the fanciest restaurants.
Hauz Khas
Hauz Khas is one of South Delhi's classiest suburbs. Tourists flock to this area to see the royal tombs of bygone centuries. At the same time, Hauz Khas boasts up-to-the-minute fashions, in designer boutiques. It also has a fine selection of first-class restaurants. There are a few parks too, including Green Park and Deer Park.
Some of India's best colleges are in Hauz Khas: the Indian Institute of Technology, the Indian Institute of Foreign Trade, the National Institute of Fashion Technology, and the All India Institute of Medical Sciences.
Defence Colony
Defence Colony is a prestigious neighbourhood occupied mainly by retired defence personnel. A walk here is a feast for the senses, given the vast number of restaurants, bars, and cafes, including both local and international chains. Defence Colony also has an excellent market, and some high-fashion stores.
This area is safe, and has many trees. Besides the many historical monuments, it is near many popular attractions - Lodhi Gardens, India Gate, Parliament House, Delhi Zoo, and the River Yamuna are all nearby, as are many historic forts, temples, and tombs. Many major South Delhi neighbourhoods are easily accessible from here as well.
Kalkaji
Kalkaji is named after the famous Kalkaji temple, which is in it. Great numbers of tourists come to see the goddess Kali being honoured morning and evening with chants, the banging bells and cymbals, and the fragrance of incense. The area has many markets with reasonably priced goods, and both Indian and international restaurants.
Greater Kailash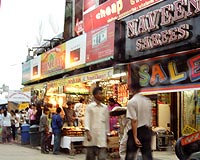 Greater Kailash is a wealthy area, with exclusive properties, which attract business and political VIPs. Many of India's trendiest stores are here. There are designer boutiques, nightclubs, bars, and pubs - and restaurants serving all kinds of food.

Greater Kailash is divided into two parts:
Greater Kailash Part I is home to the extremely popular M-Block & N-Block Markets, with their stores and restaurants. Very commercial, Greater Kailash Part I usually has bad traffic.
Greater Kailash Part II offers easy access to New Delhi's Outer Ring Road.
New Friends Colony
New Friends Colony is a very fashionable residential area, which has recently become Delhi's pub district. There are many Indian and international restaurants here; and its Thai and Chinese eateries are the best in Delhi. There are also a great variety of stores. A small shopping centre can be found on each block.
South Extension
South Extension is one of Delhi's most exclusive shopping districts. It is a bustling place on Sunday. Smart young people come here to buy designer wear, music and jewelry, but there are also traditional stalls.
Saket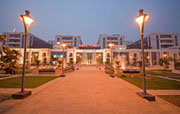 Saket is a wealthy district whose name means close to the heavens. If not the heavens, everything of a commercial nature is close by: restaurants, stores, entertainment. It is home to India's first multiplex theatre.

There are fine restaurants, trendy pubs and bars in its PVR shopping complex, coffee shops and fast food joints. Many popular marketplaces are within walking distance, a boon given Saket's awful traffic.
---