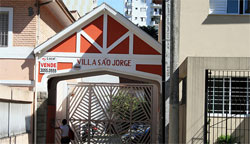 São Paolo's South Centre (a prime area) has some good neighbourhoods. The subprefecture of Vila Mariana is a cosy, relaxed residential borough. In its district of Moema family excursions to Parque do Ibirapuera are popular during the weekends. Cyclists, skaters, and joggers are a common sight here, weaving among the trees and picturesque fountains. Cultural exhibitions and major events like the Biennale of São Paolo and the São Paolo Fashion Week are often held in the park. Another park for cyclists and skating enthusiasts is the Parque das Bicycles, with its palm trees and 3,000-metre paved tracks. Moema's sport centre, the Ibirapuera Mané Garrincha, has facilities for swimming, gymnastics, tennis, basketball, volleyball, and indoor football.

The upscale Santo Amaro is known along with its neighbouring borough Pinheiros for the "Brazilian Manhattan", where swanky hotels like the Hilton, Hyatt, and Melia line Avenida Berrini. The residential high-rises of Campo Belo and Brooklin are premier choices for the cosmopolitan dweller.
Branches of multinational firms like Microsoft, Intel, Pfizer, and Nestlé have offices in Santo Amaro. For the finicky shopper, the district offers a variety of malls, including the popular Shopping Morumbi, Shopping D&D, and Shopping Marketplace.
Jabaquara, known for the Sítio da Ressaca—a farm established by bandeirantes and now a national memorial—is a mostly residential neighbourhood with a thriving Japanese community.
---