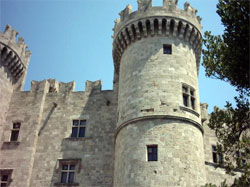 The South Aegean Islands consist of the Cyclades and Dodecanese Islands, in totality about 400 islands. Most are rocky and not very fertile, and are either volcanic or the tops of underwater mountains. Aside from tourism, the main industries are sheep herding and wine.

The many ancient sites include Greek amphitheatres and places of worship, Byzantine churches, and medieval castles, especially in the Dodecanese.
Rhodes, the largest island in the Dodecanese, has at its northern tip the large town of Rhodes. The old town is a medieval walled city, and has the splendid Palace of the Grand Master of the Knights of St John.
The city is surrounded by small villages and the beaches of Archangelos, Afantou, Embona, Faliraki, Kremasti, Koskinou, Haraki, Lindos, Paradisi, Pefkos, and Trianta. Tourism is the island's primary source of income.
The historic sites of Kos date from the Hellenistic, Roman, Byzantine, and Venetian periods, and its beaches are quite crowded.
Patmos is a quiet island with great beaches. The main town of Skala caters largely to people who arrive on cruise ships.
The remaining nine Dodecanese Islands are Astipalea, Kalimnos, Karpathos, Kasos, Leros, Nisyros, Symi, Tilos and Kastelorizo.
The scenic Cyclades with their wonderful beaches are now a major tourist attraction and get very crowded during peak season. July and August are very hot, though the heat is tempered by the constant wind. The Cyclades are most pleasant from May to June, though most visitors come in July and August.
Mykonos has long been known as a gay meeting place. There are good beaches, but the main attraction is the social scene. For cultural variety, there are trips to the nearby uninhabited ancient island of Delos, and the extensive ruins there.
Naxos is big, green and has arguably the best beaches in Greece. One of the largest and loveliest beaches here is Plaka Strand. Other nice beaches are Agios Prokopios, Agia Anna, Mikri Vigla, and Kastraki. The fishing village of Apollon has good seafood restaurants and a giant unfinished statue of the god Apollo, which has been lying in the ancient marble quarries since 600bc.
Paros, which is always full of foreigners, is the Grand Central Station of the Aegean ferry system, and many boats stop here. The tiny idyllic fishing village of Naousa gets very crowded in August. The beaches of Paros, though crowded, are good and are popular with windsurfers.  
Santorini is a visually spectacular island, on a giant volcanic crater. It is perhaps Greece's most popular island. The town of Thira is touristy, while Ola is quieter. There are good beaches at Perissa and Kamari.
Sifnos is a peaceful island and very attractive. There are good beaches all around the island; the port of Kamares, for instance, is a nice combination of a good beach with a long sheltered bay, restaurants and bars. Ios is a noisy island with an emphasis on youth.
Other islands in the Cyclades are Amorgos, Andros, Folegandros, Kea, Koufinosi, Kythnos, Milos, Serifos, Sikinos, and Tinos.
The Cyclades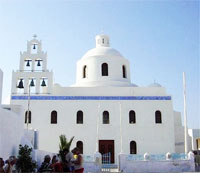 The Cyclades has some of the most beautiful villages in Greece. Its traditional architecture is its islands' most prominent feature: white-washed cubic houses with stone walls, wooden doors and blue-painted shutters.

This is particularly prominent in Santorini. The island used to be even more colourful, but in 1974 a law was passed thatall the houses had to be painted white for political reasons. Santorini has since exhibited the blue-and-white combination the Cycladic Islands are famous for, but now light colours are also allowed.
Naxos is different from the other islands as it has Venetian buildings and towers alongside the traditional architecture. Naxos is ideal for windsurfing as it receives strong winds.
Ermoupolis, the islands' commercial and cultural capital, is located in Syros. Its prosperity is attributed to the god of trade, Hermes, to whom it is named after.
Ermoupolis features magnificent neoclassical architecture in its old mansions, churches, statues, monuments, and marbled streets. The city's design is a successful collaboration by various Greek, Italian, and German architects. Its town hall and cultural centre are two outstanding buildings, the latter hosting theatrical performances, concerts, and cultural exhibits.
Mykonos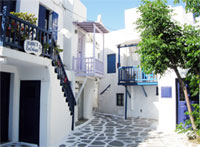 Mykonos, well-known for its gay scene, is a very cosmopolitan island, and one of the most famous islands in the Cyclades, along with Santorini. Its beautiful sandy beaches and resorts in the south are the most popular and extremely crowded.


Mykonos has two main towns, Chora Mykonos and Ano Mera.
Chora Mykonos looks typically Cycladic, with chic shops, posh restaurants, and fine jewellery stores ranged along narrow, labyrinthine streets and alleys. There are also many bars and night clubs in the capital. Famous sites are the windmills, the national monument Paragia Paraportani church complex, and the old Venetian castle.
Chora Mykonos also features bright and colourful two-storey Venetian homes with porches and wooden verandas at the waterfront.
Ano Mera, the quieter village, features luxurious hotels and apartment and room rentals. Panagia Tourliani monastery with a courtyard and marble fountain is an interesting site.
Little Venice Mykonos is a charming neighbourhood of old white-washed houses with wooden staircases built very close each other and interesting fishermen's huts, lining the seafront.

The Dodecanese Islands
The Dodecanese is blessed with white sand beaches, the loveliest of which are in Karpathos, the island's second largest settlement. It also features medieval castles and Byzantine churches amidst its charming villages with Venetian houses.
Patmos, the site of monastery of St. John, is primarily a pilgrimage site for both Catholics and Orthodox, though it is slowly opening its doors to tourism.

Rhodes
The sunny island of Rhodes has lovely gravel beaches that attract tourists all year round. Rhodes also has a small agricultural region which produces citruses and wines.
The medieval fortified city of Rhodes, once a stronghold of the Knights of St. John, is beautifully preserved. Many of its old mosques and Gothic buildings still stand.
---