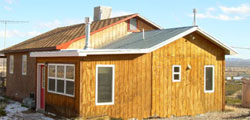 A large part of São Paolo's South is rural. Socorro is an adventurer's town, where locals and tourists shoot the rapids on Rio del Fez and go trekking, cycling or paragliding off Pico de la Bella Vista or Pico del Cascabel. Nineteenth-century houses still dot the Socorro countryside, and the famed Ice Cream Ademar still sells ice cream, as it has done for over a hundred years.

Campo Limpo is a district of glaring social irony, where slum-dwellers live next door to condominiums of the upper-middle class. Though several businesses and factories still keep shop here, industrial decline has widely struck the area. Neighbouring Mboi Mirim is not much better off, with a high crime rate that the community is trying to bring down.
Parelheiros is the one of largest yet least populated districts in São Paolo. Once inhabited by the Tupi, it is now home to another indigenous group, the Guaraní. Most of the area is covered by the Atlantic Forest. Parelheiros is a low-income neighbourhood, with poor public services and infrastructure.
---