Southern Thailand is located in the Malay Peninsula and is famously known for its tropical appeal: the islands scattered throughout the Andaman Sea and the Gulf of Thailand, the white sand beaches, and the famous dive sites.

The tourism sector drives Southern Thailand's economy, thanks to the popularity of Phuket, its neighbouring islands, and some towns on the mainland, particularly Phang-nga, Krabi and Trang.

Mountain chains, limestone hills, and river plains make up the inland features of this part of the peninsula. Eco-tourism to the area, which includes activities such as mountain and canoeing expeditions have been growing in popularity.
Phuket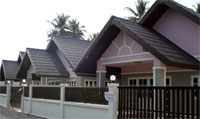 The island of Phuket has been recognized as having some of the best beaches in the world. Daily flights from Bangkok bring local and foreign tourists to Phuket every day.

Even before it became a top destination for holidaymakers from around the globe, Phuket has been a melting pot of cultures. Buddhist, Thai-Chinese, Muslim and even sea gypsy communities have lived here in peace. Conflict among these groups has been rare.

Phuket is noted for its famous beaches, including Mai Khao, which is near the airport and away from the crowded areas; Surin Beach, favoured by celebrities; Patong Beach, the area's largest beach resort, with a famous club scene; Kata Yai Beach, a busy but clean tourist beach with good surf; Ao Chalong, which has Phuket's most popular yacht anchorage; Rawai Beach, the set-off point for several nearby islands, and popular for its beachside dining; and Nai Harn, a quiet beach in the south near Phrom Thep Cape .
Phuket is surrounded by other beautiful islands such as Ko Yao, Kho Hae, and Kho Bon.
Surat Thani
A major travel destination, Surat Thani faces the Gulf of Thailand from the east and boasts a coastal plain in the centre of the province, grasslands, forests, rubber tree and coconut plantations, and limestone mountains. Surat Thani is a top tourist destination, thanks to the islands of Ko Samui, Ko Pha-ngan, Ko Tao and the 42-island Mu Ko Ang Thong Marine National Park.
Ko Samui
Thailand's third largest island is the lovely Ko Samui in the Gulf of Thailand. The natural beauty of its beaches, coral reefs and tropical rainforests have drawn visitors from around the world to Ko Samui.
There has been a lot of property development on Ko Samui owing to its popularity as a tourist destination, though construction is regulated by height restrictions and other measures. Some of the most popular beaches on Ko Samui are:
Chaweng Beach: The best-known and most notorious of Ko Samui's beaches, Chaweng Beach has witnessed the greatest amount of mass development in the island, including 4- and 5-star hotels. Chaweng has a legendary nightlife, and is known for its boxing matches.
Lamai Beach: One of the most popular beaches in Ko Samui, Lamai is a partying mecca. It is less chaotic than Chaweng Beach, but it is just as commercial and not an ideal destination for relaxation. Lamai is famous for the rock formations and bathing pools in its southern end.
Choengmon Beach: This is one of the calmest and most relaxing beaches in Ko Samui, with its clean and clear waters and a lovely view of the sunrise. It has three- to five-star resorts aimed at older crowds.
Big Buddha Beach: Lovely views and calm waters draw families, backpackers and other budget travellers to Big Buddha. Cheap lodges and mid-range accommodations have sprung up here. Big Buddha is still quite a peaceful place, despite a plenitude of trendy restaurants, shops, pubs, and bars.
Laem Set Beach: This is regarded as one of the best beaches in the island. Its shallows waters are calm most of the year, and the beach is a lovely sight with rows of palm trees leaning very close over the sand. There are a few hotels, spas, and restaurants, but the area is largely undeveloped.
Maenam Beach: A budget beach with cheap bungalows dotting the coast, Maenam is a choice destination for backpackers and is near a hiking trail. It is considered "family-friendly" as its shallow, calm waters are considered quite safe for children.
Na Thon/Nathon: Ko Samui's administrative centre is a populated seafront settlement where many bargain shops, restaurants and tour agencies are concentrated.
---