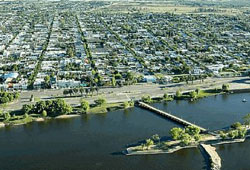 Unlike the other regions, the department of Soriano relies more on tourism and the fishing industry than on agriculture. Three rivers flow through it: the Río Negro, the Uruguay River and the San Salvador River.

The Río Negro alone already has a lot to offer nature-loving tourists, such as the Paseo de las Islas, dozens of islets with forests and beaches with thin, gold sand. They are accessible by boat or overland by small bridges. Some of these islands—Del Naranjo, De Lobos, Del Infante and Dos Hermanas y la Del Puerto, for instance—have excellent camping sites and abundant fishing grounds.
Other notable attractions along the Río Negro is the Rambla Costanera de Mercedes, a scenic waterside walkway; and the Paso Palmar Dam, near which a number of bungalows, villas and hotels have been built.
Along the Río Negro are two parks—Parque Bartolomé Hidalgo and Parque Guernica, which is noted for its eucalyptus groves.
The Uruguay River is of historic significance. It was on the beach of La Agraciada that Juan Antonio Lavalleja and the Treinta y Tres Orientales landed on April 19, 1825 and planted their revolutionary flag. It was the starting point of the national movement for independence. A memorial was built on the site in honour of this historic event.
Along the San Salvador River, the Playa de la Concordia has camping and hunting grounds.
Mercedes
Located on the south bank of the Río Negro is Mercedes, the capital city of the Soriano Department.
A port town, its main industries are centred on the trade of agricultural and dairy products. It is also home to a number of factories, including a paper manufacturing plant.
It is in the city of Mercedes where one could find the scenic Rambla Costanera de Mercedes, a popular waterside walkway.
---