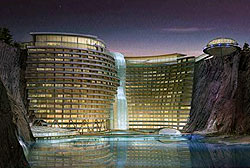 Before the opening of Shanghai's trade ports to foreign countries, Songjiang (a prime area) was the economic, political and cultural centre of Shanghai, and it still has a few tricks up its sleeve. It is 47 square kilometres of breathtaking mountain views, green rolling hills, snaking rivers, and a large, man-made lake. Its magical scenery attracts visitors to the National Tourist Resort of Sheshan in north Songjiang. There are also scattered golf courses and luxury villas, helping to seal Songjiang's place as a popular weekend destination.

Much of Songjiang's old architecture has been preserved, and viewing these old buildings has become a pastime of tourists to the area.
 
Songjiang is becoming an urban area, as several universities have sprung up in its northwest.
---