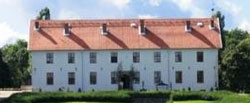 Wedged between Lake Mälaren and the Baltic Sea, on the south-eastern coast of Sweden, is Södermanland County. It is largely occupied by Södermanland province, also called Sörmland or Sudermania.

Södermanland is also known as a landskap, or historical province, as it has been inhabited since the Stone Age. This is the reason medieval-period churches, graveyards, and rune stones can be easily found in the countryside here. A distinct historical feature of this province is the Castle of Gripsholm, situated in the town of Mariefred, and the castle holds more than 4,000 pictures of the Swedish National Portrait Collection.

Near the castle are Ingvar rune stones, which commemorate members of the Viking expedition to the Caspian Sea. These stones, along with the striking landscape, will excite history buffs and outdoor enthusiasts.
The southern edge of this province is bordered by the forest of Kolmården.
---