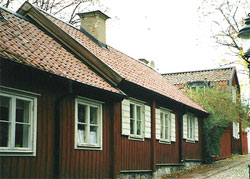 Södermalm (a prime area) is great for the younger crowd, or those who still enjoy the throbbing vibe of nightlife. This former working-class district is now the place to be seen, as it holds the most number of restaurants and bars in all of Sweden.

Soak up the culture and marvel at modern architectural works in Södra Hammarbyhamnen. Södermalm is also the home of Stockholm's Royal Palace and Parliament. The Långholmen prison is also found here, alongside the oldest tower in the city: the Birger Jarl Tower.

For a more relaxing pace, the neighbourhood of Helgalund offers a more scenic respite. On Tjurberget Hill are parks where you can lay back and unwind.

Gamla Stan 
Gamla Stan, Stockholm's Old Town, is the place to go to get a glimpse of the city's historic architecture. Here is where you'll see the majestic Kungliga Slotter—the Royal Palace, created by Nicodemus Tessin the Younger from 1690 to 1704. A short walk away from the palace is the Riddarholm Church, where monarchs are laid to rest. The Riksdag, or Parliament building, is also located here.
Other places worth exploring are the Nobel Museum, the Stockholm Cathedral, and the House of Knights. Everywhere you turn, there will always be a landmark or a structure worth photographing in Gamla Stan.
Investment property can be found in Stortorget. This area is dotted by gorgeous old homes that were built in the 17th and 18th centuries.
---