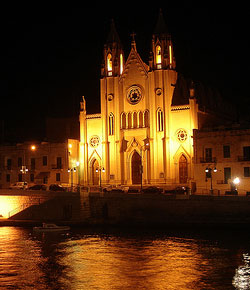 Sliema sits on the tip of a peninsula, facing the Mediterranean Sea, with a stunning view of Valletta to the south. Sliema is part of Malta's primary coastal resort, St. Julians. Trendy shops, restaurants and cafés and modern hotels make the former fishing village a tourists' haven, though the resulting traffic congestion and glut of commercial buildings, drab apartment blocks and hotels around the water have not pleased some residents.

Elegant Victorian and Art Nouveau-designed villas and townhouses abound within the quiet, inland streets; of particular interest are six traditional Maltese houses along Belvedere Terrace. Some old houses still stand along the shoreline of the coastal resort, by Sliema's three-kilometre-long promenade.
From Sliema you can take a ferry to Valletta, or walk to Paceville and St. Julians.
Balutta Bay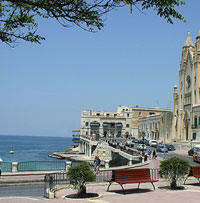 Between Sliema and San Ġiljan is the popular swimming spot Balluta Bay. The neo-Gothic Carmelite Parish Church is right on the waterfront, along with a tree-shaded, triangular plaza with cafés along each side. Stone steps lead bathers down to the water.


---