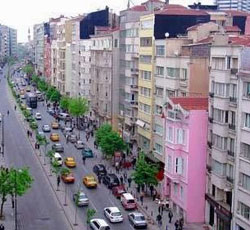 Şişli (a prime area) is a bustling residential, business and shopping area. It is a relatively new settlement, flourishing only after the mid-19th century. It turned into a middle-class residential district as the area of Mecidiyeköy developed. Building construction and immigration soon followed. Jews, Greeks, Levantines, and Armenians settled here. Many Armenian Turks still live in the neighbourhood of Kurtuluş. There are churches, old mosques, and synagogues in the district.

The arrival of the first electric tram in Şişli contributed to its rapid development, and apartment blocks rose up here in the 1920s. The founding of the Republic made Şişli a highly-desired district, with larger apartment buildings rising side by side small shops along the main road, Halaskârgazi Caddesi. French-influenced cafés, hotels, concert halls and theatres followed.
Şişli has posh neighbourhoods, such as Nişantaşı, and shantytowns as well. Many the old buildings have been replaced by multi-storey shops, offices, and banks. Shopping malls, cinemas, pubs, cafés and fast food restaurants have also sprung up. The backstreets remain residential and are home to students and working-class families. Owing to the growing population and the narrow streets, traffic jams have become a common problem in Şişli.
Nisantasi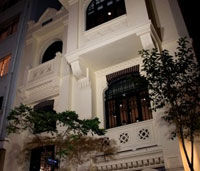 Nişantaşı is a wealthy historic district that has long been settled by elite, well-educated, and prominent people. It also has a large community of foreign residents, most of which have family or business connections in Turkey. Nişantaşı's development started when Sultan Selim the Third built a royal archery ground here. Abdülhamid the First also chose the area for his sister's 2-week wedding ceremonies.

Contemporary Nişantaşı is home to the likes of Orhan Pamuk, the Nobel Prize-winning novelist whose books are set in, or inspired by, the area. Many famous people can be spotted here on a daily basis—walking around, having a cup of coffee, shopping at the stylish boutiques. The district's famous pubs, cafés, and restaurants are usually crowded on Saturdays. Sundays are more relaxed, with mostly just residents out and about.
The high-end City's Nişantaşı shopping centre in Teşvikiye is dedicated to big international brands, cafés, restaurants, and cinemas. Abdi İpekçi Street, which extends from Maçka to the centre, is flanked by luxury boutiques such as Armani, Burberry, Chanel, Escada, Gucci, Hermes, Hugo Boss, Kenzo, Louis Vuitton, and Prada. It has the highest lease prices for retail stores in Turkey.
The most prestigious housing areas in Istanbul are in Nişantaşı, which has the most expensive property rental rates in Turkey.
Tesvikiye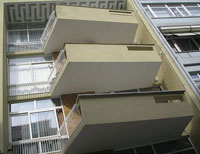 Teşvikiye, which means "encouragement" in Turkish, is an attractive, long-established neighbourhood in the wealthy Nişantaşı district. It has many distinctive buildings from the Ottoman Period, such as the ornate, neo-Baroque Teşvikiye Mosque, the neo-classical Teşvikiye Police Station and the Dolmabahçe Palace, the administrative centre of the Ottoman Empire in its final decades.

There are lovely stone apartment buildings in Teşvikiye, built by prominent Jewish and Levantine business families. The neighbourhood is home to many politicians and writers.
Kurtulus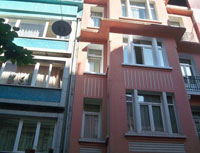 Kurtuluş is an old cosmopolitan neighbourhood, home to a significant population of ethnic Greek and Armenian Turks. Once called Tatavla, it was founded in the 16th century by Chian Greeks, becoming exclusively Greek before the Turks took over.

Those seeking refuge from persecution, such as Chaldean Christians from Iraq, have been allowed to settle in this working-class neighbourhood. They hold services in the basement chapel of St. Anthony's Cathedral on Istanbul's famous İstiklal Avenue.
Mecidiyekoy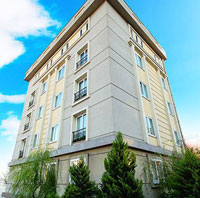 Mecidiyeköy is named after the Ottoman sultan Abdülmecid I, as it was first settled during his reign. It is now an important business and shopping district in Istanbul, with many towering office buildings competing for attention along its narrow streets.
Mecidiyeköy is located in Şişli, a vibrant centre of entertainment and business. It has a big shopping centre and an antiques bazaar. Amusement is provided by a cinema, a bowling alley, and the Ali Sami Yen Stadium, the home of the Galatasaray football club.

The Taşyapı Mecidiyeköy Project is a 37-storey twin residence and a 4-storey mall with a supermarket, cafés, restaurants, cinemas, beauty salons, and fitness centres.
Okmeydani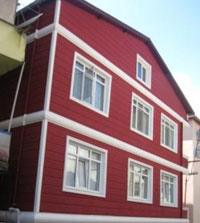 Okmeydani, which means "archery field" in Turkish, is part of the district of Şişli. It was once the practice ground of Ottoman archers, hence its name. An Ottoman orphanage, Darülaceze, opened here in 1896.

The neighbourhood started expanding in the 1960s. As an important crossroad, many commercial buildings, government offices and some large hospitals were built in Okmeydani.
It is very close to major tourist attractions via public transport.
---