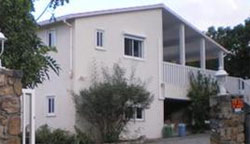 An amusing legend tells how the island of Saint Martin came to be divided unequally into French Saint Martin and Dutch Sint Maarten. It was said that a Frenchman with a bottle of wine and a Dutchman with a large flask of gin decided to define their respective territories by walking in opposite directions. The spot where they eventually met face-to-face would be the border. Starting back to back, the Frenchman went north while the Dutchman headed south. The Dutchman would stop frequently to take deep chugs of gin while the Frenchman took only small, measured sips. As a result, the French ended up with two-thirds of the island (Saint Martin) and the Dutch only with a third (Sint Maarten).
Despite the inequality, the two territories developed an amicable relationship. In fact, through the 1648 Treaty of Concordia, Saint Martin and Sint Maarten (a prime area) maintain a peaceful co-existence that is economically productive for both sides.
Sint Maarten once thrived in salt production, which led to frequent conflicts between the Dutch and the Spanish during the period of the Eighty Years War in Europe. After the Dutch reclaimed the island after Spain's abandonment of Philipsburg in 1648, the economy was centred on agriculture and labour obtained through slave trade. The economy dwindled when slavery was abolished and the salt production was shut down in 1949.
In the early 20th century Sint Maarten's economy got a much-needed boost, as air travel, following the construction of the Princess Juliana International Airport, became more popular and drew more international visitors to the island. It also helped that Sint Maarten was made a duty-free zone.
Sint Maarten has a thriving and very lively tourism industry, thanks to its scenic beaches and a few historic sites.
With Sint Maarten's impending autonomy in 2010, there are hopes for a stronger administration that would implement structural changes in society and the economy, benefitting the island's residents better.
Cupecoy Bay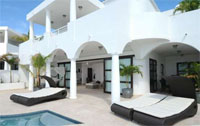 Cupecoy Bay Beach is located on the western side of the island close to the border between Saint Martin and Sint Maarten. It is a beautiful white sand beach with a breathtaking backdrop of 10- to 20-foot-high golden sandstone and limestone cliffs with small caves.

The beach is noted for its surf, with swells going as high as 2 to 3 feet. However, the cliffs and rock formations block the winds that can generate larger waves preferred by surfers.
In recent years, the construction of high-class condominiums has somewhat changed the scenery of the cliffs.
The far western end of Cupecoy is a "clothing optional" area. It is not surprising to see people strolling along the beach au naturel.
The Cliff

The Cliff at Cupecoy Beach is a luxurious 8-floor condominium and a very secure "residents only" property.