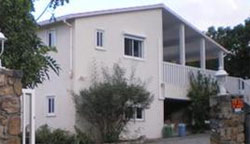 An amusing legend tells how the island of Saint Martin came to be divided unequally into French Saint Martin and Dutch Sint Maarten. It was said that a Frenchman with a bottle of wine and a Dutchman with a large flask of gin decided to define their respective territories by walking in opposite directions. The spot where they eventually met face-to-face would be the border. Starting back to back, the Frenchman went north while the Dutchman headed south. The Dutchman would stop frequently to take deep chugs of gin while the Frenchman took only small, measured sips. As a result, the French ended up with two-thirds of the island (Saint Martin) and the Dutch only with a third (Sint Maarten).
Despite the inequality, the two territories developed an amicable relationship. In fact, through the 1648 Treaty of Concordia, Saint Martin and Sint Maarten (a prime area) maintain a peaceful co-existence that is economically productive for both sides.
Sint Maarten once thrived in salt production, which led to frequent conflicts between the Dutch and the Spanish during the period of the Eighty Years War in Europe. After the Dutch reclaimed the island after Spain's abandonment of Philipsburg in 1648, the economy was centred on agriculture and labour obtained through slave trade. The economy dwindled when slavery was abolished and the salt production was shut down in 1949.
In the early 20th century Sint Maarten's economy got a much-needed boost, as air travel, following the construction of the Princess Juliana International Airport, became more popular and drew more international visitors to the island. It also helped that Sint Maarten was made a duty-free zone.
Sint Maarten has a thriving and very lively tourism industry, thanks to its scenic beaches and a few historic sites.
With Sint Maarten's impending autonomy in 2010, there are hopes for a stronger administration that would implement structural changes in society and the economy, benefitting the island's residents better.
Cupecoy Bay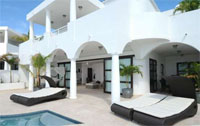 Cupecoy Bay Beach is located on the western side of the island close to the border between Saint Martin and Sint Maarten. It is a beautiful white sand beach with a breathtaking backdrop of 10- to 20-foot-high golden sandstone and limestone cliffs with small caves.

The beach is noted for its surf, with swells going as high as 2 to 3 feet. However, the cliffs and rock formations block the winds that can generate larger waves preferred by surfers.
In recent years, the construction of high-class condominiums has somewhat changed the scenery of the cliffs.
The far western end of Cupecoy is a "clothing optional" area. It is not surprising to see people strolling along the beach au naturel.
The Cliff

The Cliff at Cupecoy Beach is a luxurious 8-floor condominium and a very secure "residents only" property.


The Cliff is home to the very first Christian Dior Health Spa in the Caribbean.
Cupecoy Beach Club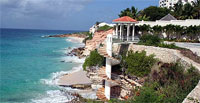 Cupecoy Beach Club in Sint Maarten is a small private beach club with all the amenities of a world-class beach resort sans the crowds.


There are 2- to 4- bedroom units to choose from, all fully equipped with the latest amenities. All the units have private balconies that provide scenic views of the ocean, garden or pool.
Cupecoy Beach Club has easy access to the Mullet Bay Golf Course and only a mile away from the duty free shops and restaurants of Maho Village.
Porto Cupecoy/Marina Village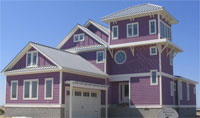 The Riviera-inspired harbour village of Porto Cupecoy is situated at the French-Dutch border of Sint Maarten between Simpson Bay and the Caribbean Sea. It is only 10 minutes away from the Princess Juliana Airport.


The gated community is conveniently nestled in a seaside piazza of duty-free shopping centres, high fashion boutiques, and famous restaurants. Since the village is located right smack at the border, residents can enjoy the best that both the French and the Dutch sides of the island have to offer.
Available units at Porto Cupecoy are priced from $500,000 to a little over $1.5 million.
Presently under construction is the equally luxurious Marina Village. The exclusive resort will be home to 27 villas, complete with an 18-hole championship golf course and a marina. Each villa will be fully equipped with a state-of-the art kitchen, porcelain floor tiles and aluminium windows.
Marina Village will also have a grocery store, pharmacy, bank, jewellery shops, bistros, European-inspired cafes and restaurants.
Mullet Bay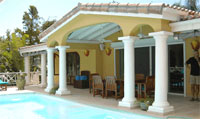 Moon-shaped Mullet Bay is famous for its wide, white sand beach and curling waves. It is one of Sint Maarten's prettiest bays, with palm trees at its fringes and a breathtaking backdrop of shady sea grapes.

The bay is a favourite swimming and surfing spot. However, the location is notorious for its strong riptides and sudden wave surges, so swimming with a partner at all times is advised.
There are a number of snack bars and beach volleyball amenities in Mullet Bay. On weekends, visitors and residents are treated to beach parties and music bands.
At Mullet Bay there is an 18-hole golf course and The Towers, a timeshare resort with suites available for rent. Each suite is fully furnished with the latest modern amenities, marble tiles, and balconies that provide a panoramic view of the area.
Mullet Bay is easily accessible from the hotels at Maho Beach and the exclusive condominiums of Cupecoy.
Simpson Bay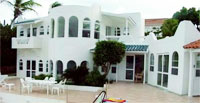 Simpson Bay is a popular white sand beach in Sint Maarten. It offers a few getaways, such as the Ocean's Edge, Bella Mare, Sea Place, View-2-Die-4 Condos and the Barefoot Condo. There are no high-rise residential complexes here, and beach activities are minimal, though there are excellent water sports facilities. The bay has easy access to nearby boutiques and restaurants.

The beach is a quiet place to just relax or swim, or stroll along the shore watching the rolling waves and the breathtaking sunset. It also enjoys a spectacular view of Saba Island on clear weather.
The most popular resort in the area is Simpson Bay Marina, which boasts 100 villas, 50 shops and offices, 8 fabulous restaurants, tennis courts and swimming pool, and a lagoon with marinas and marine-related services. Each villa is stocked with top-of-the-line amenities. The resort itself has a number of shops, boutiques, a medical and dental centre, spa, pharmacy and banking facilities that provide for the needs of its residents.
While Simpson Bay is within the vicinity of Princess Juliana Airport, the noise from planes is very minimal since they don't fly directly over the bay.
Beacon Hill
Beacon Hill is an upscale neighbourhood in Sint Maarten that offers vacation homes and condominiums. It has an exclusive view of the small and quiet beach of Burgeaux Bay.

There are a number of single and two-storey villas for sale or for rent in the area, each with the latest amenities and terraces with great views.

Beacon Hill is just a few minutes' walk from popular restaurants and night spots in Maho Plaza.
Maho Bay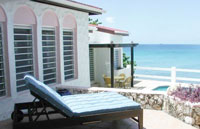 Facing west of the Caribbean Sea is Maho Bay Beach, which lacks natural shade but famous for its strip of white sand and spectacular sunsets.

There are several resorts, hotels, bars and restaurants that are walking distance from here, as well as shopping malls and casinos. Sunset Bar & Grill is a favourite hangout of locals and tourists, which, as its name suggests, provide great sunset views. From here, one can also see the approaching airplanes just 40 to 100 yards behind Maho Beach. As the planes land or take off, sand and beachgoers' belongings get blasted all over the place.

The rocks in Maho are excellent sites for snorkelling. There is also a picturesque cave accessible by boat. The beach, though, is not suitable for children as there is a sudden steep drop into the sea from the shoreline.
Cole Bay/Cay Bay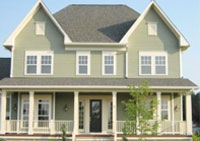 Cole Bay and Cay Bay's names are quite often interchanged, and some residents assert that it is one district, while others insist that they are separate. No matter who is right or wrong, being in the area guarantees spectacular views of brilliant blue seas and powdery white sand beaches. Moreover, they are conveniently near popular bistros, restaurants and night spots.

In Cole Bay, the streets in the neighbourhood are named after trees. Cay Bay is the endpoint of horseback riding tours from the Seaside Nature Park.
Cole Bay and Cay Bay offer condominiums, vacation homes and bay-front villas which are near amazing snorkelling spots. In 2009 an industrial port project was proposed for Cole Bay. Many residents, however, were against it.
Residents of Cay Bay report seismic activities, something to consider before buying property.
Almond Grove
Almond Grove Estate is an upscale residential community in Sint Maarten, nestled high on picturesque hills. It is one of the best places for peaceful and pleasant living, with its well-maintained West Indian style homes, landscaped gardens, scenic views of Simpson Bay, and overall Caribbean atmosphere.
Safety is a priority in Almond Grove, where each villa is mounted with solid hurricane-proof wood shutters over the windows and glass doors.


Almond Grove's central location makes it easily accessible to a number of shops, business establishments and restaurants.
Little Bay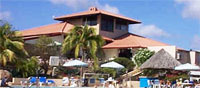 Little Bay is home to Little Bay Beach, which lies around the bend of Great Bay. The scenic small beach has powdery white sands, the stretch of which becomes narrow depending on the tides. Because of its cove-like nature, it is a popular spot for divers and snorkelers.

It is in Little Bay that one will find the two hotels Bel Air Beach Resort and Divi Little Bay Beach Resort.
Fort Amsterdam, situated on an outcrop at the edge of Philipsburg, is visible from Little Bay. The rocky outcrop on which the fort stands protects the region from strong winds, so that the waters in the beach are relatively calm and safe for swimming.
Cay Hill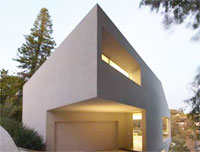 Cay Hill is a peaceful neighbourhood, with streets named after wild animals. It is centrally located and easily accessible from Philipsburg city, Simpson Bay, and Marigot, which is on the French side of the island.


Philipsburg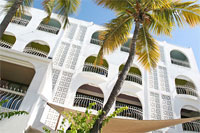 Philipsburg is the capital of Sint Maarten. Founded in 1763, the city is the island's commercial and trading centre. Its waterfront is always busy with docking cruise ships.

Front Street and Back Street are Philipsburg's two main roads. Front Street is where you find most of the modern duty-free shops and boutiques amidst buildings and houses in traditional West Indian architecture. One favourite shop of tourists is the Philipsburg Liquor Store, which has the largest selection of wines and spirits on the island. The Simartin Museum in a 100-year-old house is also on Front Street. The museum exhibits Arawak artefacts and cargo salvaged from a British shipwreck in 1801.
The city has five famous tourist attractions: Fort Amsterdam, which is the first Dutch military outpost in the Caribbean, and which offers a great view of Philipsburg (it is actually in Sint Eustatius); Fort Willem, located west of downtown and with a television transmission tower; the 1793 Courthouse at Front Street, an elegant white wooden edifice with a cupola; and the Emilio Wilson Estate, a former sugar plantation that spans the entire valley to the top of Sentry Hill. It was once the residence of the island's first governor John Philips, for whom the city of Philipsburg was named.
Great Bay Marina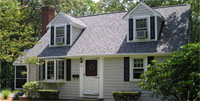 Great Bay Marina, also known as Dock Maarten, is located in the northeast section of Great Bay in Sint Maarten. Expansion of its mega-yacht infrastructure is ongoing, and with over 1.2 million cruise passengers visiting Sint Maarten each year, it is fast becoming the Caribbean's mega-yacht capital.
Real estate development is being planned in the upland area of the marina. Two-bedroom apartments and condominiums, some of which will be offered as timeshares, will enjoy a waterfront view. Commercial spaces targeted for tourists will also be made available.


Pointe Blanche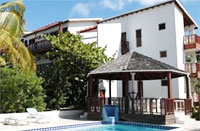 Situated at the south eastern tip of Sint Maarten next to Philipsburg is the picturesque community of Pointe Blanche. The upscale neighbourhood is adorned with charming pastel-coloured houses and villas.


Pelican Key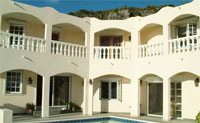 Pelican Key is an upscale residential area consisting of luxury condominiums, timeshare complexes, elegant resorts, and villas. It is one of the most developed residential and resort locations on Sint Maarten. The starting price of villa properties for sale here is $350,000.

Not only is Pelican Key situated in one of the best snorkelling spots on the island, it is also close to Simpson Bay, where many shops, restaurants, boutiques, casinos and other entertainment facilities are located.
---