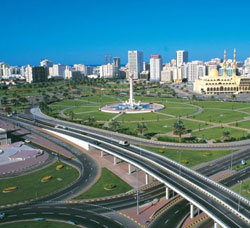 The picturesque coastal emirate of Sharjah on the coast of the Persian Gulf is estimated to be at least six thousand years old. After oil was discovered here in 1972, it underwent rapid urban development to a similar degree as its neighbours.

Shipping is also a major industry here. Sharjah has three busy deep water seaports: Port Khalid and Hamriyah Port on the Persian Gulf and Port Khorfakkan on the Gulf of Oman (Sharjah is the only UAE state with land bordered by both bodies of water). The emirate is also the industrial centre of the UAE; 40% of the industries in the federation are in Sharjah.
Life in Sharjah is intellectually and culturally rewarding. Local society is charming and a tad more conservative than in Dubai and Abu Dhabi. It is the only emirate in the UAE where no alcoholic drinks are served or sold at all anywhere, and pork is a rare commodity. Unmarried couples are not allowed to live together.
Despite these restrictions, there is a sizeable expat community in Sharjah. A fair percentage actually work in Dubai, which is 15 to 30 minutes by car, but choose to live in Sharjah where rents are more affordable. The standard of living in Sharjah is on par with those of Dubai and Abu Dhabi.
Sharjah City
The skyline of its capital city, also called Sharjah, is a combination of impressive skyscrapers and restored structures, especially in the Arts Area. This neighbourhood near the Al Buhaira Corniche features five heritage buildings and a 200-year-old mosque, as well as the Sharjah Art Museum and the Sharjah Arts Centre. Another community full of finely restored buildings is the Heritage Area, which has several souks and museums. In the centre of the capital in the area of Al Soor is the majestic, gold-domed King Faisal Mosque, the largest mosque in the UAE.
Indeed, its rich heritage of Arabian arts and culture distinguishes Sharjah from the other emirates. Along with many art galleries, it has around 20 museums, most notable of which is the Museum of Islamic Civilization on the Majarrah Waterfront. The museum has over 5,000 items on display reflecting Islamic history. There is also the Sharjah Art Museum, the UAE's biggest art museum.
The city's souks, such as the Blue Souk, are devoted to selling traditional crafts, including lovely gold jewellery, making Sharjah a popular place for souvenir shopping.
Alongside its open encouragement of endeavours in music, theatre, literature, painting and sculpture, Sharjah is also known for its academic wealth. Aside from University City and its six diversified academic centres, it also has the UAE's first interactive museum for children, the Discovery Centre. The emirate hosts a prestigious international book fair at its Expo Centre every year.
---