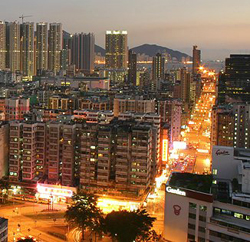 Bargain hunters flood the street markets of Sham Shui Po all days of the week. Electronics aficionados and audiophiles patiently comb the open-air market on Apliu Street. Garish and colourful neon signs bridge the narrow streets above pedestrians' heads. Anything related to computers can be found near the Golden Computer Centre. An expansive upmarket mall, Festival Walk, is also very popular and accessible via MTR. Half of the housing in this district is public.

An area of low-rise luxury housing has emerged southwest of Kowloon Tsai Park and many movie and broadcast personalities are said to live here in Kowloon Tong, probably because many of Hong Kong's radio and TV stations are located on nearby Broadcast Drive. An emerging international community is attracted by the American and Australian international schools in the area as well.
On the western coast is Stonecutters Island—a name it retains even though reclaimed land has annexed it to the Kowloon peninsula. It was once used as a military base by the British. Today, there is a naval base here operated by the People's Liberation Army of China. While specialty street markets are the star attractions of this district, it is mainly a residential area with a few historical destinations, such as the quaint Lei Cheng Uk Han Tomb Museum.
---