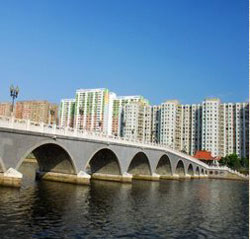 The river channel of Shing Mun is flanked by dozens of 40-storey residential buildings. Along this 4-mile canal is the hub of the Sha Tin district. What was once a fishing village is now a collection of housing estates that shade the streets. Some residents overlook the canal or the mountains north and south of this long narrow strip.

The indoor mall, New Town Plaza, is the main shopping, eating and recreation hub in Sha Tin. It is directly accessible by MTR. Other places of interest and entertainment here are Snoopy World, te Hong Kong Heritage Museum, the Ten Thousand Buddhas Monastery and the walled village of Tsang Tai Uk.
Excellent MTR and bus connections, the world-class Chinese University of Hong Kong, and the region's main trauma hospital make this area ideal for those who want good neighbourhood services and conveniences and a short commute to work.
---