Bucharest's Sector 6 (a prime area) has buildings and monuments of religious and secular importance. One of these is the Leul ("The Lion"), a bronze monument at the district's crossroads that stands in honour of Romania's military heroes.

In this sector you can also find the 19th century churches of Saint George, Giulesti-Serbs, and the Church Militari I and the 17th century Chiajna Monastery. The monastery has a secret tunnel where a carriage could go through to Belvedere Palace. Other sites of interest in the sector are the Gradiana Botanica, or the Botanical Institute, and the Pasteur Institute.

Sector 6 has many studio apartments that appeal to young professionals, but they can be very pricey.
Drumul Taberei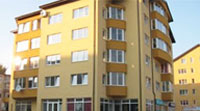 Drumul Taberei was built in the 1960s over agricultural fields and marshland. The district is easily reached from all points of Bucharest; though no metro station services it, the bus network easily gets you there.

Much of Drumul Taberei's architecture is in the utilitarian style typical of the Communist regime. The residential structures are termed cutii de chibrituri—matchboxes. But
Drumul Taberei is different from other similarly uniform and seemingly bland districts. Its architects and planners departed from the usual Socialist collective "dormitory neighbourhood" idea of rigidly segregating residential areas in guarded compounds, and placed market areas in close proximity. Thanks to this, the district is today a thriving area, with bus stations, restaurants, cinemas and retail stores conveniently located near the residential areas.
Cotroceni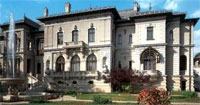 Cotroceni was once covered by the lush Vlăsia Forest. Today it is a residential area. Many of its houses were built in the 1920s to the 1940s. The district is serviced by two metro stations.

The district's landmarks include the hilltop Cotroceni Palace, the official residence of the Romanian President. Other interesting places to visit here are the Cotroceni Botanical Garden, the elegant Bucharest Opera, and the St. Elefterie Church.
---