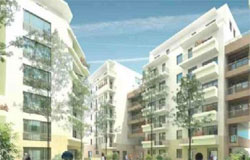 The worst areas in Bucharest are in Sector 5. Once a thriving industrial area, the sector is now in dire need of improvement. Poverty-stricken Rahova, Ferentari and Giurgiului are slum areas. They are mostly inhabited by the impoverished Roma and are rubbish-strewn hotbeds of crime, including drug trafficking.

Ferentari
In the mid-19th century, Ferentari was the first area in Romania to be developed as a modern industrial district. It was a major contributor to Romania's economy at the turn of the century. Many industrial plants sprouted in the area, and it was a major point on the country's first railway network.
Unfortunately, as the country moved into the new millennium, Ferentari was left stranded.
Ferentari is almost inaccessible due to limited public transportation and frequent traffic jams in  Chirigiu Square. It is home to Bucharest's most poverty-stricken and downtrodden population, many living in unhealthy conditions.
The government has tried to reposition Ferentari as a viable residential area, constructing pastel-painted apartment buildings, small houses with charming turreted roofs, and several with pleasant flower gardens and gates guarded by dignified clay lions.
The area has colour. Weekends are fascinating as people from different walks of life converge on the streets, many of which are still paved with cobblestones and lined with pigeon coops perched high above wooden posts. The throng is bathed with strong smoke from barbecue stands, with the driving rhythms of the folk music manele playing in the background.
---