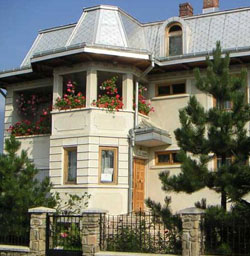 Sector 2 (a prime area) has a highly multicultural population. It has a large Chinese community living mostly in Colentina and Obor.

Sector 2 is a flat plain, and was once part of the Vlăsiei forests. The Colentina River runs through it. Archaeological findings reveal that this sector was part of the oldest settlements in the area.

Sector 2 is quite green. Lakes and swamps, forests and parks deliver much-needed fresh oxygen to the area. Ash, pine, spruce, elm and linden trees shade streets and public areas. Old monasteries, hermitages and churches add to the district's appeal.
Colentina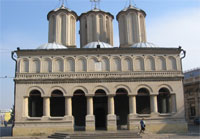 Colentina's sprawling area encompasses the Andronache Forest and the shores of the Colentina River. The setting is quite ideal; not only are residents offered the serenity of a verdant landscape; the district is also close to Romania's largest shopping district (Obor) and is home to one of the country's best medical centres, Fundeni Hospital.
Though the metro doesn't include the district in its route, the area is accessible either by car or through the extensive public transport network, the RATB. Trams and buses take only about 20 minutes to reach Colentina from the city centre.

A poor area during the Communist Era, much of the Colentina quarter has been transformed into a pleasant neighbourhood. Ten-storey apartment buildings are home to many who work in the city centre. Most of the historical landmarks in the area were demolished by the Communists, but there are still a few left. One is the well-preserved 16th century Plumbuita Monastery Church, the site of the first printing press in Bucharest. Another is the Ghica Family Palace, a fine example of neoclassical French architecture.
Obor
Obor is one of Bucharest's largest shopping districts, with a multitude of indoor and outdoor markets selling goods that range from chickens to computers. Obor teems with activity; its shoppers, street vendors, and hawkers all add to the cacophony of sights and sounds. Nearby, in contrast to these public markets, is a modern mall.
One of Obor's landmarks is the huge Magazin Universal, a building filled with hundreds of independent retail stores. Across it is Obor Park.
Pantelimon
The Pantelimon district has a few attractions, including the Lia Manoliu Stadium, the largest football stadium in Romania, and a large hypermarket.
A new development in Pantelimon is Swan Lake Village, consisting of 58 villas built near a lake.
Tei/Lacul Tei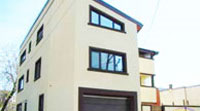 Lacul Tei means "Linden Tree Lake", and this neighbourhood indeed has a lake and a lot of linden trees, both near the homes and in the park. Lacul Tei started out as a middle-class area but has become even more exclusive over the years, with many large homes being built recently.
---