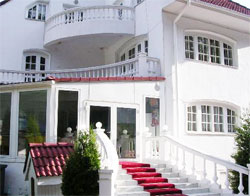 Sector 1 (a prime area) is the city's wealthiest sector, with the most expensive real estate. It is also therefore the least densely populated part of Bucharest. Wide boulevards lead to parks and large squares, exclusive residential neighbourhoods and posh commercial areas. Sector 1 is also a business district, with office spaces steadily growing in number in the area since the early 2000s. Hotels and restaurants have sprung up here in the wake of this boom in business.

The country's main railway station, the Gara de Nord, is in Sector 1. The station connects to all Romanian cities and several international destinations. The sector is also linked to the rest of the city by buses, trolleys and trams. It is close to Bucharest's two airports and its main thoroughfare, the Bucuresti-Ploiesti.
Key residential areas
Caleia Victoriei
,
Piata Romana
,
Dorobanti
,
Baneasa
,
Aviatiei
,
Pipera
,
Aviatorilor
,
Herastrau Park
,
Scoala Herastrau
,
Bordei Park
,
Primaverii-Kiseleff-Domenii
Caleia Victoriei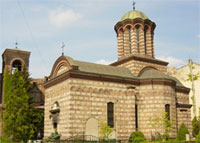 One of the major avenues of Bucharest, Caleia Victoriei (Victory Avenue) was built in 1692. Originally paved with oak beams, it was a trade route between Bucharest and the Transylvanian city of Braşov. Over the years it has become a sophisticated and fashionable area, edged with elegant neoclassical and pre-war buildings redolent of an illustrious and luxurious past.

Some of the many magnificent landmarks include the imposing, Art Deco Palatul Telefoanelor and the neoclassical National Theatre Bucharest. This theatre complex also houses an art gallery and exhibition space, the Romanian National Operetta Theatre, and some of Bucharest's swankiest bars. The Romanian Athenaeum, home to the George Enescu Philharmonic, is a magnificent example of neoclassical architecture. Its elaborate interiors include ornate frescoes detailing important moments in Romanian history.

A short stroll will take you to the historic Casa Capşa, a restaurant, hotel and café symbolic of 19th century Romanian high living; and Kretzulescu Church, which is a remarkable representation of Romania's Brăncovenesc architecture, a style popular through the 17th and 18th centuries that fused Baroque and oriental sensibilities.
Caleia Victoriei is undoubtedly one of the richest areas in Bucharest, with some of the country's premier investment properties. It is also one of the city's best shopping streets, with designer boutiques and a large department store.
Piata Romana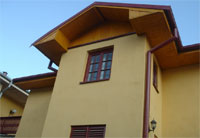 The Piaţa Romană, or Roman Square, overlooks one of the major intersections of Bucharest's Sector 1. Its accessibility and prime location make it one of the busiest areas in the capital. Situated in the vicinity is the prestigious Bucharest Academy of Economic Studies. One of the largest schools in southeastern Europe, it holds a population of close to 50,000 students.

There are a number of luxury apartments in the area, as well as many budget hotels and inexpensive accommodations. Several trendy nightspots can also be found in the area, mostly catering to the Academy's students.

In the Piaţa Romană is a statue of the Capitoline Wolf—the wolf that rescued and nursed Romulus and Remus, the legendary twin founders of Rome. The statue is a nod to the Romanians' belief that they are descendants of ancient Roman colonist.
Dorobanti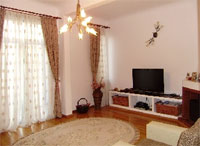 Named after the soldiers of the 1877 Romanian War of Independence, Dorobanti is another prime location in Bucharest. There are 4 Metro stations in each corner of the district, making it accessible from any point in the city.

Many of the structures in the vicinity are modern buildings. An impressive example is the vast, glass-and-steel Charles de Gaulle Plaza, which overlooks the lush Herăstrău Park. Other landmarks include several red-brick Orthodox churches, all in the distinct Brăncovenesc architectural style reminiscent of churches in Russia.

Dorobanţi is one of Bucharest's major districts, as it has various embassies and the offices of many local and foreign companies.
Baneasa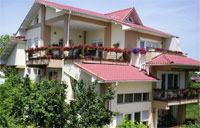 Băneasa is one of the Bucharest's more rustic areas, a sparsely populated place with a forest and a lake. Though only accessible from the city centre through RATB, Romania's network of buses and trams, the district has Aurel Vlaicu International Airport and Băneasa Zoo. A proposal to have the district included in the metro system is currently being considered.

Since 2000, Băneasa's property market value has been rising rapidly. Many luxury apartments are currently under construction. Most of the pre-1930s villas scattered about have been refurbished and put up for rent or for sale as accessible getaways from the city. Though property costs here are higher compared to other Eastern European counterparts, Băneasa's offerings were ranked the lowest in the entire country—because of the abundance of land in the area.
Băneasa has an expanding commercial district. With the city centre becoming increasingly crowded, many global companies such as Kraft and Phillip Morris have set up their offices here.
Aviatiei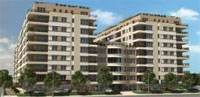 Along the border of Sectors 1 and 2, Aviaţiei has become one of Romania's fast-developing property hubs. There are many modern luxury apartments available here, side by side with Art Nouveau villas from the 1930s.

Its name alludes to Romania's aeronautical past. The Aviaţiei Museum, one of the district's landmarks, contains many of the country's aeronautic artefacts. Other significant markers include the imposing AVAS building, the headquarters of the special government agency responsible for privatizing state-owned properties.
This fashionable and accessible district is in close proximity to other exclusive suburban areas. A metro station is within a 10-minute walk from Aviatiei and nearby residential such as Primaverii and Herăstrău.
Pipera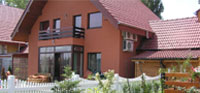 The northernmost stop on Bucharest's metro, Pipera was just a quaint village before the 1990s. Since then, it has blossomed and become one of the country's most exclusive residential areas.

Living in rustic Pipera, away from the noisy city centre, comes with a cost. Before 2005, plots of land were estimated at US$1 per square metre. Currently, much of it is now estimated at around US$250 per square metre.
Aviatorilor

A quiet escape from the city centre, Aviatorilor boasts numerous parks and green spaces. It is known as an exclusive, prestigious neighbourhood. Some of its attractions are its accessibility to central Bucharest, its lush greenery, and its many shops, cafés and restaurants.
Herastrau Park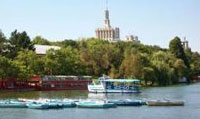 On the edge of Herăstrău Lake, this district was an unpleasant marshland until development began in the 1930s. Now Herăstrău Park has become home to Romania's elite. Surrounded by a captivating landscape that changes colour every season, tranquillity is an everyday experience for many of its residents and visitors.

The park is divided into a zone that mainly consists of untouched forestry and the public/active domain with various areas for recreation. Options for activities include ferries across the lake, an amusement park, an assortment of bars and restaurants, and the Village Museum, which showcases life in a traditional Romanian village.
Much of the early 20th century architecture in the area has been preserved. Grand houses along the Bulevardul Mircea Eliade and Soseaua Kisileff streets flaunt neoclassical and Art Noveau details; in several areas, modern luxury villas blend into the lush backdrop with their ivy-covered balconies and stone carvings.
Scoala Herastrau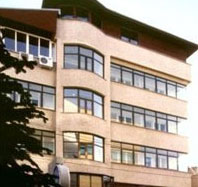 Scoala Herăstrău sits next to the serene Herăstrău Park, close to the lake. A development boom has recently surged here, with many newly built villas and luxury homes.

Scoala Herăstrău's proximity to Romania's largest and safest park makes it prime property. Verdant panoramas as well as a large and safe space for recreation make this an ideal residential area that counters the stress of the crowded city centre.
Bordei Park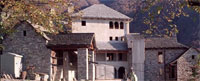 Bordei Park is one of Bucharest's more exclusive residential areas. Located near the banks of the Bordei Lake, the area was public property until September 2003. Privatized by the General Council of Bucharest, Bordei Park was handed over to an entrepreneur who transformed it into prime property.

Much of the architecture in the area is modern, composed of villas and luxury apartments complementing the rustic landscape. The lake, the surrounding greenery and the select neighbourhood add to Bordei Park's worth as a premier property investment option.
Primaverii - Kiseleff - Domenii
This district's very name is an apt representation of the area's perennial springtime vibe. Primaverii is accessible by car and the local metro.

Known as a safe neighbourhood, Primaverii has many restaurants, cafés, bars and supermarkets within a short walk of its modern apartments and charming, turn-of-the-century villas. Many of these have been recently renovated.
---