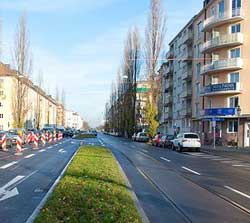 The busy bohemian quarter of Schwabing in northern Munich is divided into the boroughs of Schwabing-West and Schwabing-Freimann.

Schwabing West is a desirable address in the city. It is a prominent, area, very diverse, a sort of mini-Munich, with many beer gardens, cinemas, shopping boulevards, all very close to the centre. Although it can be very noisy because of heavy traffic, people like to live here.  The Ludwig Maximilian University of Munich is here, and the borough has a large and lively student population. It also has some of the city's best and biggest parks.
There are also many theatres and museums here. The Pinakothek der Moderne, which has four major museums under one roof, has the biggest 20th and 21st century art, architecture and design collection in Germany.  Lehnbachhaus, the former villa of a Munich aristocrat, has a large collection of expressionist art, especially strong on the Blue Rider period.
And now people can surf in Munich with no ocean in sight! An urban designer has placed three rows of rocks in the bed of the river Isar, to create waves. Although a big notice says swimming and bathing is "verboten", every summer lines of wetsuit-clad youth come to do just that.
Englischer Garten
The Englischer Garten is one of the largest city parks in Europe. It is a long, narrow park that stretches northeast from Munich's centre to the city limits. Its 900 acres is a restful mix of gardens, lawns, shaded walking and bike paths, ponds and streams. The Isar and Eisbach rivers flow through the park. Benches and tables are arranged near buildings and landmarks. The park is popular with foreign and local tourists, students, families and even nude sunbathers. Its most recognizable landmark is the five-tiered, almost pagoda-shaped Chinese Tower. People like to gather under it to hang out and have a beer.
Luitpoldpark
Schwabing has several parks. Small, well-attended Luitpoldpark can be found between the larger Olympiapark and Englischer Garten. Here, visitors spend the day relaxing under the shade of the spreading linden and chestnut trees.
The park is well-equipped, with two children's playgrounds, a public swimming pool, a dog run, and open spaces for jogging, exercise, games and picnics. In the middle of the park is Bamberger Haus, which has a restaurant offering South American cuisine. A little maze created by hedges is quite popular with visitors. The park is directly accessible from two underground stations. Despite all this activity, the Luitpoldpark is never noisy or crowded.
There's a small hill in the park with a good view of the city and the Alps beyond. The hill was built from the rubble of the houses that were destroyed during World War II.
Schwere-Reiter-Straße
New, comfortable and affordable student accommodations can be found along Schwere-Reiter-Straße, in what used to be army barracks situated not far from the Olympiapark. The Munich Student Union bought the barracks building and renovated it into dormitory rooms for the students. Nothing that recalls the building's previous function as a barracks was allowed to remain. This is the third time the Union has turned former military buildings into student dorms.
Schwabing West has a bohemian, youthful character. Many typical student pubs and small restaurants offer an array of ethnic culinary diversity.
---