Schwabing-Freimann is one of the two boroughs of the Munich quarter of Schwabing.
Thanks to its theatres, markets, old buildings and its bohemian past, Schwabing-Freimann is popular with artists, actors and musicians, though lately more buttoned-down professionals have been making the borough their home as well.
Thanks mainly to the students at the nearby Ludwig Maximilian University of Munich, the night life of Schwabing-Freimann is always abuzz with activity. The area's cafés, bars, clubs and restaurants are always busy. The long, narrow Englischer Garten borders Schwabing-Freimann in the west.
Schwabing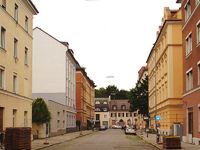 Schwabing is a prominent, area, very diverse, a sort of mini-Munich including parts of the English Garten, many beer gardens, cinemas, shopping boulevards, all very close to the centre. Although it can be very noisy because of heavy traffic, people like to live here.

It is a vibrant place, with the vast historic park Englischer Garten as its main attraction. There are also many theatres and museums. The Pinakothek der Moderne, which has four major museums under one roof, has the biggest 20th and 21st century art, architecture and design collection in Germany. Lehnbachhaus, the former villa of a Munich aristocrat, has a large collection of expressionist art, especially strong on the Blue Rider period.
With a university on its southern side, Schwabing has a bohemian, youthful character. Many typical student pubs and small restaurants offer an array of ethnic culinary diversity.
And now people can surf in Munich with no ocean in sight! An urban designer has placed three rows of rocks in the bed of the river ISar, to create waves. Although a big notice says swimming and bathing is "verboten", every summer lines of wetsuit-clad youth come to do just that.
Schwabing has an illustrious tradition of having been home to artists of all kinds since the turn of the 20th century, and has many surviving Art Nouveau buildings. All the painters of the Blue Reiter movement lived and worked here, like Kandinsky and Klee. Among the writers were Thomas Mann and Wedekind.
Freimann
Freimann was once an upscale area. It is a green residential area bordering the Englischer Garten and extending up to the Bavarian wilderness. It has a housing development for families built in the 1930s and subsequently added to. Neu Freimann, a basic development which includes both industries and housing with green areas, was built in the 1960s. Rental rates here a bit cheaper than more centrally located areas. Its Aumeister Beer Garden is quite pleasant in summer.
Biederstein
Biederstein is an attractive residential area with plenty of detached houses and villas set amongst gardens. There are also some lodgings for students here. Some of the developments are on the grounds of Biederstein Castle, which lends its name to the area. There are sufficient shops to serve everyday needs and a number of restaurants and beer gardens.
This area has some sports facilities, including an outdoor pool. Nearby are the lake Schwabinger See and the Englischer Garten. Parking is difficult, but getting around without a car is easy thanks to the area's efficient metro and bus access.
---