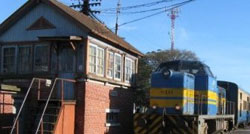 The neighborhood of Sayago is north of the city of Montevideo. Its significance lies in its crucial position, at the junction between the north and west coast and the east and northeast national railways. The Administración de Ferrocarriles del Estado, the country's government-owned railroad company, has facilities in the area known as Triángulo Sayago, used for storage of track repair materials.

In the early 20th century, Sayago was the site of a summer resort that was very popular among Montevideans. Today, all that remains of the resort is a contemporary garden. There are also houses here built in the Spanish colonial style, with others having distinctly British or German architecture.
Originally a working class neighborhood, Sayago experienced both population and economic growth with the establishment of cement and glass factories and schools, including the Facultad de Agronomía. This growth slowed with the emergence of other neighborhoods. Nevertheless, Sayago remains the home of key institutions, such as the Ministerio de Agricultura y Pesca and the annex of the Ministerio de Trabajo. It also has financial institutions and quality health care provided by clinics, hospitals and a sanitarium.
With Sayago residents being huge fans of basketball and football, it's not surprising that the neighborhood is home to champion teams such as Club Social y Deportivo Sayago and Racing Club de Montevideo.
---