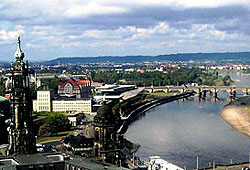 Saxony-Anhalt is a historic state with a beautiful open landscape, with forests and lakes. Wild orchids grow throughout the state. The Harz, a low mountain range, is located here. Its highest mountain, Brocken, overlooks the vast National Park Harz, which is part of the vast Harz/Saxony-Anhalt nature reserve. Doben Heath, the widest expanse of forest in Germany, has lovely peaceful nature reserves and some beautiful lakes which are a good place for watersports. Among the river meadows of the Saale-Unstrut region, which has the atmosphere of Tuscany with its lush farmlands and vineyards, are numerous archaeological sites.
Its unspoilt countryside is dotted with historic towns. Many of the grand cathedrals of this state were known to Martin Luther. In the town of Bad Kosen, Bach composed his Brandenburg Concertos. On a more modern note, the Bauhaus movement originated in Dessau.
Havelberg, Salzwedel, and Stendal are particularly charming traditional small towns. Wernigerode, a 775-year-old town, boasts well-preserved half-timbered buildings and a castle with marvelous views of Brocken Mountain. Merseburg, once the monarchial seat, is home to an elaborate cathedral and church ensemble with many turrets. The capital town, Magdeburg, is green and has an impressive Romanesque cathedral and monastery as well as other fine historic buildings. Halle boasts the most intact of the many residential districts built during the period of industrialization in late 19th century Germany.
It was from the Wittenberg University that young Martin Luther turned Christianity upside down with his protestant reformation, which changed Christianity and western civilization. He challenged the papal authority by saying that the Bible was the only infallible source of Christian doctrine, and translated it from Latin to make it available to the common people.
Magdeburg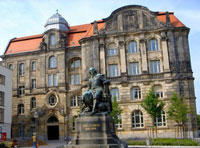 Saxony-Anhalt's capital town, Magdeburg, is a green city, with an impressive Romanesque cathedral and monastery as well as other fine historic buildings. The capital lies on the Elbe River and was one of the most important medieval cities of Europe. The city's most remarkable building is the Cathedral of Saints Catherine and Maurice is the tallest church building of eastern Germany, and is distinguished for its stunning and unique sculptures, especially the "Twelve Virgins" at the Northern Gate.
---