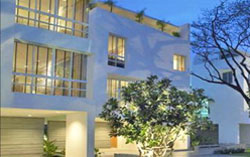 Sathorn, (a prime area) known locally as Sathon, is adjacent to the Bang Rak district and shares important commercial and diplomatic activities with its famous neighbour, though it has a less stressful vibe.

The ever-growing business district is filled with upscale, stylish hotels and trendy restaurants, favoured by expats and business travellers. Sathorn Road offers many of these ultramodern conveniences. The road's side streets are lined with nightspots and galleries.
Sathorn has budget sois (lanes) as well. Rundown hotels and cheap lodges are a popular long-term rental choice for expats.
The zone covering Sulawong, Sathorn and Silom roads are noted for their concentration of high-rise buildings, hotels and nightlife.
Sathorn Road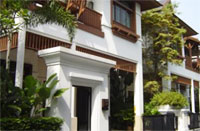 Sathorn Road is one of Bangkok's busiest streets, but actually has a less stressful atmosphere, as traffic here runs more regularly than on Silom Road, one of the worst traffic sites in Bangkok.

Sathorn Road and its immediate neighbourhood, Bang Rak, are among the most in-demand locations in Bangkok, with a significant number of embassies, posh hotels and upscale restaurants. Sathorn Road is a slice of modern Bangkok, with its cosmopolitan atmosphere and gleaming modern architecture.
Behind Sathorn Road lies an old neighbourhood that was developed to house high-rise condominiums and apartment buildings. These developments are popular with expats.
---