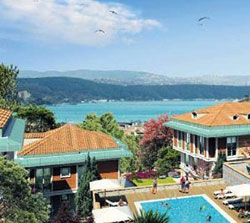 The plush residential district of Sarıyer (a prime area) is a lovely, green fishing town. In the early 19th century, lavish summer residences mushroomed along its coast, and the rich trading communities of Galata and Pera were formed. Foreigners who wanted to enjoy the scenic Bosphorus also built their summer residences here.

After the construction of major roads leading to other parts of Istanbul, the wealthy villages of Tarabya, Yeniköy, İstinye, Emirgan, and Rumelihisarı were developed and Sarıyer became the neighbourhood of İstanbul's rich politicians, businessmen, actors and musicians. Bistros and the beautiful beaches draw many visitors to Sarıyer during the weekend.
Tarabya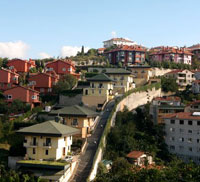 Tarabya took its name from its picturesque cove on the Bosphorus shore. The Greeks called the place Therapia for its healthful air. Fish restaurants, taverns, bistros, cafés and nightclubs have sprung up near the bays. It becomes particularly crowded here in the summer.

Tarabya had been a choice summer resort of Istanbul's rich set since Byzantine times. Well-off foreigners, such as the French, British and Italian diplomats, built villa residences here that doubled as summer embassies, and all had beautiful gardens. Some of these were lost to fire, but the grand, Art Nouveau Italian embassy still stands and has been renovated. On the border with upscale neighbour Yeniköy is the old summer residence of the German Embassy.
Yenikoy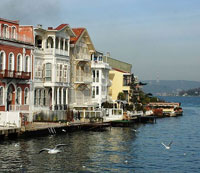 Yeniköy, whose name means "new village", is a wealthy neighbourhood in Sarıyer. Ang the waterfront are a hotel, villas and apartment blocks, cafés and fish restaurants. Several 19th century timber houses lend nostalgic charm to the neighbourhood as well.

Yeniköy's northern end was once the site of the old summer residences of European embassies, most of which have been lost to fire. Two that were spared are the Austrian Embassy, the most impressive structure in the neighbourhood; and the German Embassy, which stands near a wooded park and beautiful gardens. In between the two is the village of Kalendar.
The neighbourhood's waterfront homes and gated compounds attract expats. Despite the recent global economic crisis, the property values on the Bosphorus have not gone down. They also vary, depending on location—waterside or roadside.
Istinye
The harbour village of İstinye got its name either from its Byzantine founder Leosthenius, or its temple of Sosthenius, said to have been erected by Jason and the Argonauts.

İstinye is one of the best places along the Bosphorus to enjoy a stroll, a seafood dinner and coffee afterwards. The harbour was once the major shipyard on the Bosphorus. Now it has a fish market and small marina sheltering pleasure craft and fishing boats.
The new and architecturally innovative İstinye Park shopping complex has a glass-roofed shopping retail area housing international brand boutiques and jewellery, cosmetics and gift shops. It also has an authentic Turkish food market, a central entertainment space, an open-air lifestyle centre, and a green central park.
Emirgan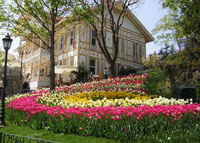 The wealthy suburb of Emirgan is famous for its seaside caféterias and the large Emirgan Park, whose lovely Ottoman pavilions have been converted into cafés and restaurants. The park's ponds are surrounded by trees, picnic tables and jogging tracks. In April, it becomes particularly beautiful when its colourful tulips begin to bloom.

The village square is also a pretty place, with old fountains and open-air cafés shaded by ancient plane trees. An 18th century baroque mosque stands nearby.
Other interesting sites in Emirgan are the Sakıp Sabancı Museum, dedicated to calligraphy and other fine arts, and the streets of Boyaciköy, which have enduring examples of late Ottoman and early Turkish Republic architecture.
Rumelihisari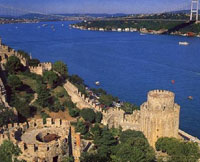 Rumelihisarı is a historic neighbourhood in Istanbul's Sarıyer district. It takes its name from the 14th century Ottoman Rumelian Castle, which looms over the neighbourhood from its hilltop perch. Rumelihisarı is a relatively safe and quiet area, with stone-paved streets and old timber mansions. It is home to middle-class residents and students attending the prestigious Boğaziçi University on the Bosphorus.
---