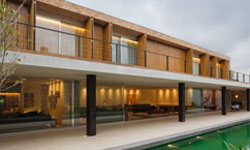 Named after Saint Paul, São Paolo is the country's top economic and cultural hub, churning out almost half of Brazil's national income. Though often drizzly and climatologically unreliable, its enormous range of beautiful natural landscapes, architectural relics, and colourful festivals more than make up for the vagaries in the weather. Here is the home of the fine beaches, the lush Ribiera Valley in the cradle of the Atlantic Forest, hundreds of caves, and pounding waterfalls.

Metropolitan São Paolo has the country's prime universities, colonial and contemporary museums, art galleries, business and shopping centres, and beautiful old cathedrals. The Fortress Circuit, encompassing the cities of São Vicente, Guarujá, Bertioga, Santos and Praia Grande, takes pride in the ancient strongholds preserving Brazilian culture, art, and architecture since the beginning of colonization five centuries past.
The heart of the state is Brazil's largest city, São Paolo.
---