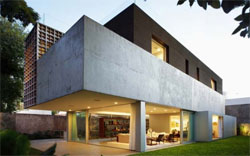 In São Paolo, skyscrapers soar next to century-old houses, and the inexorable rhythm of workdays and nightlife seems endless. The city is the third largest metropolitan area in the world. It is home to South America's chief financial centre Avenida Paulista, the São Paolo Stock Exchange, a massive helicopter fleet and, amidst the city hubbub, traces of stately colonial architecture and pockets of greenery.

The city started out with a small Jesuit mission on a hill between the Anhangabaú and Tamanduatei rivers in 1554. It soon became a trading post and entry-point for expeditions into Brazil's interior. Not long after it became a city in 1711, the first coffee saplings were brought into Brazil and planted around the city's outskirts. Coffee cultivation and trade rocketed following the construction of the 1867 railway, making São Paolo the world's largest coffee exporter. Immigrants poured into the city to work the coffee plantations after slavery was abolished in 1888, and the multitude of ethnicities—German, Italian, Portuguese, Spanish, Japanese, and Arabic among them—remain vibrant ingredients of São Paolo culture to this day.
The Anhangabaú, long ago filled to construct a freeway, occasionally strikes back, flooding roads. A partial replica of the old mission, Pátio do Colégio, sits on the hill today.
---